Del apagón analógico al temático: el comportamiento de la audiencia televisiva española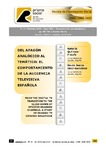 Title
Del apagón analógico al temático: el comportamiento de la audiencia televisiva española
Alternative Title(s)
From the digital tv transition to the close-down of specific branded channels: a study of spanish tv viewing behaviour
Date
2014
Citation
Quintas-Froufe, N., & Díaz-González, M. (2014). Del apagón analógico al temático: el comportamiento de la audiencia televisiva española. Prisma Social, 13, 705-736.
Abstract
[Resumen]: El objetivo principal de esta investigación es analizar el comportamiento de la audiencia televisiva en España durante el periodo que abarca desde el apagón analógico, ocurrido en el año 2010, hasta el apagón temático de mayo de 2014. Se trata de identificar patrones de comportamiento del espectador televisivo en una época de especial interés para el análisis de las audiencias por varios factores: el aumento del tiempo que se dedica a ver la televisión (lo que consolida la influencia social de este medio), la eliminación de la publicidad comercial de RTVE, la concentración de Cuatro y Telecinco y la absorción de La Sexta por parte de Atresmedia. La metodología empleada ha sido de carácter cuantitativo y cualitativo, ya que combina los rasgos de ambas. El análisis toma como principal referencia la cuota de pantalla, indicador unánimemente aceptado para el estudio de las audiencias.
[Abstract]: The principal objective of this research is to analyse the behaviour of the Spanish TV audience during the period covering the time from the Digital TV Transition in 2010 up to the close-down of specific branded channels in May 2014. The aim is to identify TV viewing behaviour patterns during this period which is of special interest in the field of audience analysis. There are various reasons for interest in this time period: the increase in time dedicated to watching TV (which has been further reinforced by the social influence of this medium); the removal of commercial advertising on RTVE; the merger of Cuatro and Telecinco and the takeover of La Sexta by Atresmedia. The methodolgy employed in this research was both quantitative and qualitative in its scope; the research used the audience share as the primary source of information as it is the sole reference that is unanimously accepted for audience analysis.
Keywords
Audiencia televisiva
Espectador
Apagón analógico
Índices de audiencia
Televisión
España
Television audience
Spectator
Digital TV transition
Audience share
Television
Spain
Editor version
Rights
© Fundación iS+D para la Investigación Social Avanzada
ISSN
1989-3469