A new challenge for advertising on mobile devices: Social TV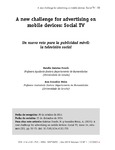 Title
A new challenge for advertising on mobile devices: Social TV
Alternative Title(s)
Un nuevo reto para la publicidad móvil: la televisión social
Author(s)
Date
2015
Citation
Quintas Froufe, N. y González Neira, A. (2015): A new challenge for advertising on mobile devices: Social TV, Icono 14, volumen (13), pp. 52-75. doi: 10.7195/ri14.v13i1.755
Abstract
[Abstract]: Mobile device advertising is a rapidly growing market due to the penetration of mobile devices in Spanish society. Advertising communication in this digital ecosystem continually poses new challenges. One of these - the subject of this proposal - is the link-up between mobile advertising with social TV. It opens up new possibilities for the development of advertising strategies on mobile devices. The aim of this paper is to describe the challenges faced by the Spanish advertising industry with the recent introduction of Social TV. Spain has one of the most developed Social TV sectors in Europe. It will provide a global overview of this new reality and uncover the new possibilities and main challenges for the development of advertising strategies for mobile devices. To this end we propose an examination of the perception of two of Spain's major broadcasting empires, Atresmedia and Mediaset España, of this phenomenon.
[Resumen] La publicidad móvil es un fenómeno en expansión por la alta penetración de los dispositivos móviles en la sociedad española. La comunicación publicitaria en este ecosistema digital plantea continuamente nuevos retos. Uno de ellos es la vinculación de la publicidad digital móvil con la televisión social. Esta última abre nuevas posibilidades para el desarrollo de estrategias publicitarias en estos dispositivos. El objetivo de este artículo es describir los retos a los que tiene que enfrentarse el mercado publicitario español ante la implantación de la televisión social. España es uno de los países con mayor desarrollo en este nuevo entorno en Europa. Se trata de aportar una visión completa de esta realidad que detecte las nuevas posibilidades y principales retos para el desarrollo de las estrategias publicitarias en movilidad. Para ello se expone cuál es la percepción de los dos principales grupos mediáticos españoles, Atresmedia y Mediaset España, sobre este fenómeno.
Keywords
Social TV
Mobile advertising
Advertising strategies
Mobile devices
Social audience
Spain
Televisión social
Publicidad móvil
Estrategias publicitarias
Dispositivos móviles
Audiencia social
España
Editor version
Rights
Los autores conservan los derechos de autor y ceden a la revista el derecho de la primera publicación
ISSN
1697-8293
Related items
Showing items related by title, author, creator and subject.
Barbeito Torrente, Silvia

(

2016-09

)

[Resumen] Introducción: La familia es un elemento clave en el proceso de recuperación en personas con trastorno mental grave, siendo proveedora de información útil para la recuperación de la persona y proporcionando apoyo ...

Modroño Alborés, Paula

(

2019

)

[Resumen] El presente trabajo pretende realizar un análisis documental acerca de las monedas sociales dentro del contexto español, profundizando en la iniciativa de los Bancos del Tiempo en la ciudad de Vigo. En este último ...

Díaz de la Rosa, Angélica

(

Universidade da Coruña

,

2007

)

[Resumen] El presente trabajo analiza el fenómeno de las cooperativas de iniciativa social en España, tanto desde un punto de vista de Derecho estatal como autonómico. Se incide especialmente en el concepto de cooperativa ...