Vehicle Classification using the Discrete Fourier Transform with Traffic Inductive Sensors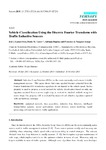 View/Open
Title
Vehicle Classification using the Discrete Fourier Transform with Traffic Inductive Sensors
Author(s)
Date
2015
Center/Dept./Entity
Facultade de Informática, Departamento de Electrónica e Sistemas, Grupo de Tecnoloxía Electrónica e Comunicacións (GTEC)
Citation
Lamas-Seco, José J.; Castro-Castro, Paula-María; Dapena, Adriana; Vazquez-Araujo, Francisco J. (2015). "Vehicle Classification Using the Discrete Fourier Transform with Traffic Inductive Sensors", Sensors 15, no. 10, pp. 27201-27214.
Abstract
[Abstract] Inductive Loop Detectors (ILDs) are the most commonly used sensors in traffic management systems. This paper shows that some spectral features extracted from the Fourier Transform (FT) of inductive signatures do not depend on the vehicle speed. Such a property is used to propose a novel method for vehicle classification based on only one signature acquired from a sensor single-loop, in contrast to standard methods using two sensor loops. Our proposal will be evaluated by means of real inductive signatures captured with our hardware prototype.
Keywords
Analytical methods
Data acquisition
Inductive loop detector
Intelligent transportation systems
Sensor applications
Sensor devices
Sensor modeling
Signal processing
Software for sensors
Traffic applications
Editor version
Rights
Reconocimiento 3.0
ISSN
1424-8220
Related items
Showing items related by title, author, creator and subject.
Rodríguez Soutullo, Luís

(

2020

)

[Resumo] Este traballo trata sobre un sistema de control climático para invernadoiros. Este sistema encárgase de recoller valores de sensores (temperatura, humidade…) e controlar en base a eles uns determinados actuadores ...

Otazua, Enaitz

;

Irigoyen, Eloy

;

Imatz-Ojanguren, Eukene

;

Keller, Thierry

(

Universidade da Coruña, Servizo de Publicacións

,

2019

)

[Resumen] El deterioro de la movilidad de la extremidad superior es una de las consecuencias más comunes de los accidentes cerebrovasculares. La estimulación eléctrica funcional (FES) ha demostrado ser una terapia efectiva ...

Santos, Carlos

;

Rodríguez, David

;

Llana, Álvaro de la

;

Espinosa, Felipe

;

Lázaro, José Luis

(

Área de Ingeniería de Sistemas y Automática, Universidad de Extremadura

,

2018

)

[Resumen] En los sistemas de control en red, las estrategias de control basado en eventos han demostrado su efectividad para reducir notablemente la carga del canal inalámbrico sin degradar de forma significativa el índice ...