Aplicación web para evaluación y seguimiento del rendimiento de asignaturas y titulaciones universitarias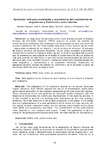 Title
Aplicación web para evaluación y seguimiento del rendimiento de asignaturas y titulaciones universitarias
Alternative Title(s)
Web Application for Evaluation and Tracking of the University Subjects and Graduates
Author(s)
Date
2010
Citation
Castro Castro, P.M., Dapena Janeiro, A., García Naya, J.A. & Pan, Christopher (2010). Aplicación web para evaluación y seguimiento del rendimiento de asignaturas y titulaciones universitarias, Revista de Formación e Innovación Educativa Universitaria, vol. 3, no. 3, pp. 152-165.
Abstract
[Summary] The adaptation of the university studies to the current European Higher Education Area (EHEA) requires the set up of mechanisms, which allow performance evaluation of the subjects compounding the new university studies. Thus, universities create new positions as "graduate quality manager" with the objective of introducing the continuous improvement of the learning process. It is also needed to provide the working tools demanded by the new manager positions. The main objective of the project presented in this paper is the design and the implementation of a web application which allows not only carrying out the typical student evaluation tasks, but introducing customizable performance rates which are dynamically evaluated. The customization of the performance rates depends on both subjects and exams. Finally, the application is able to compute the graduate performance rates from the rates defined for the subjects.
[Resumen] La adaptación de las titulaciones universitarias actuales al Espacio Europeo de Educación Superior (EEES) requiere la puesta en marcha de mecanismos de evaluación del rendimiento de las asignaturas que componen las nuevas titulaciones. Así, las universidades empiezan a crear nuevas figuras como "responsable de calidad de la titulación", con el objetivo de introducir el concepto de mejora continua del proceso formativo. Es por tanto necesario proporcionar nuevas herramientas de trabajo a estas figuras. El objetivo principal del proyecto que se presenta en este artículo es el diseño e implementación de una aplicación web que permita no sólo llevar a cabo las tareas convencionales de evaluación del alumnado, sino también introducir índices de rendimiento personalizables por cada asignatura y convocatoria y su evaluación dinámica. Finalmente, la aplicación permite calcular los índices de rendimiento de la titulación a partir de los índices definidos para las asignaturas.
Keywords
EHEA
Web
Performance rate
EEES
Índice de rendimiento
ISSN
1989-0257