Adaptación al EEES de las prácticas de Electricidad y Electrónica de la E.T.S. de Náutica y Máquinas de la Universidade da Coruña mediante un diseño basado en competencias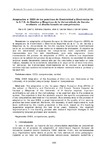 Title
Adaptación al EEES de las prácticas de Electricidad y Electrónica de la E.T.S. de Náutica y Máquinas de la Universidade da Coruña mediante un diseño basado en competencias
Alternative Title(s)
EHEA Adaptation of the Exercises of Electricity and Electronics at the University of A Coruña Using a Design Based on Competences
Author(s)
Date
2010
Citation
Castro Castro, P.M., Dapena Janeiro, A., García Naya, J.A. & Iglesia Iglesias, D.I. (2010). Adaptación al EEES de las Prácticas de Electricidad y Electrónica de la E.T.S. de Náutica y Máquinas de la Universidade da Coruña mediante un Diseño basado en Competencias, Revista de Formación e Innovación Educativa Universitaria, vol. 3, no. 4, pp. 226-240.
Abstract
[Summary] The adaptation to the European Higher Education Area (EHEA) of the subject of Electricity and Electronics at the Escuela Técnica Superior de Náutica y Máquinas of the University of A Coruña requires important modifications not only in the methodology to be used but also in the evaluation system. The objective is that the students acquire the specific competences and cross-competences identified for this subject. As a consequence of the process of adaptation to the new EHEA, a great improvement in the quality of the learning process has been obtained. Moreover, the necessity of such improvements have been confirmed by the results presented in this work, based on the teaching experience acquired during the last three years. However, the required improvements in the learning process also demand important changes in the relationship between professor and students.
[Resumen] La adaptación al Espacio Europeo de Educación Superior (EEES) de la asignatura de Electricidad y Electrónica impartida en la E.T.S. de Náutica y Máquinas de la Universidade da Coruña requiere importantes modificaciones tanto en la metodología a usar como en el sistema de evaluación. El objetivo es que los estudiantes adquieran las competencias tanto específicas como transversales que han sido identificadas para esta asignatura. Como consecuencia del proceso de adaptación al EEES, se obtiene una importante mejora en la calidad del proceso de aprendizaje. Además, la necesidad de dichas mejoras queda claramente demostrada por los resultados presentados en este trabajo, basados en la experiencia adquirida a lo largo de los últimos tres años. Sin embargo, las mencionadas modificaciones en el proceso de aprendizaje también implican cambios importantes en la relación existente entre el profesor y los alumnos.
Keywords
EEES
Competencias
Calidad
EHEA
Competences
Quality
ISSN
1989-0257