Un modelo teórico-práctico: la transpodidáctica textual: usos y aplicaciones de los textos de ficción para la enseñanza y aprendizaje de lenguas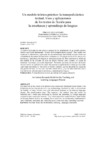 Collections
Title
Un modelo teórico-práctico: la transpodidáctica textual: usos y aplicaciones de los textos de ficción para la enseñanza y aprendizaje de lenguas
Author(s)
Date
2014
Citation
Couto Cantero, P. (2014). Un modelo teórico-práctico: La transpodidáctica textual. usos y aplicaciones de los textos de ficción para la enseñanza y aprendizaje de lenguas. Didáctica ( Lengua y Literatura ), (26), 105-129
Abstract
[Resumen] El objetivo principal de este artículo consiste en la presentación de un modelo teóricopráctico que hemos denominado: "modelo de la transpodidáctica textual". Este modelo está basado en la elaboración y aplicación de una metodología desarrollada en cuatro fases con la finalidad de demostrar los beneficios resultantes de la implementación de la misma en la enseñanza y aprendizaje de lenguas en contextos educativos. Para demostrar la validez de este modelo se ha utilizado un texto de ficción literario como ejemplo, el cuento de Andersen: "Los trajes nuevos del emperador". Partiendo, por tanto, de ese texto de ficción literario inicial se explicarán los pasos del proceso transpodidáctico textual que ha tenido lugar hasta convertirse en otro texto de ficción diferente, que ha adquirido los rasgos de otro género literario, en este caso una obra teatral breve, y que ha sido elaborado con la finalidad de ser utilizado para la enseñanza y aprendizaje de lenguas.
[Abstract] The main aim of this article is to present a new educational theoretical model based in the elaboration and put into practice of a new methodology developed in order to demonstrate the benefits of using fictional texts with educational purposes in the learning languages domain. The transformation from "The emperor's new clothes" fairy tale written by Andersen into a drama play elaborated by teachers and performed by foreign languages learners has been used as an example. This in four steps based model has been implemented for Primary School level as an example, but it could also be satisfactorily implemented in Early Childhood, Secondary and Adult Education levels with many interesting outcomes.
[Rèsumè] L'objet principal de cet article est la présentation d'un modèle théorico-pratique que nous avons nommé: modèle de la transpodidactique textuelle. Ce modèle se base sur l'élaboration et l'application d'une méthodologie développée en quatre phases avec la finalité de montrer les avantages de l'implémentation de celle-ci dans l'enseignement et l'apprentissage de langues dans des contextes éducatifs. Pour démontrer la validité de ce modèle on a proposé un texte de fiction littéraire comme exemple, le conte d'Andersen: La nouvelle robe de l'empereur. À partir, donc, de ce texte de fiction littéraire initiale, on va expliquer les phases du processus transpodidactique textuelle qui fera que ce texte devienne un autre texte de fiction différent, qui aura acquis les traits d'un autre genre littéraire, dans ce cas une œuvre théâtrale brève, et qui aura été élaboré dans le but d'être utilisé pour l'enseignement et l'apprentissage de langues.
Keywords
Transpodidáctica textual
Aprendizaje de lenguas
Educación
Editor version
Rights
LICENCIA DE USO: Los artículos a texto completo incluidos en el Portal de Revistas Científicas Complutenses son de acceso libre y propiedad de sus autores y/o editores. Por tanto, cualquier acto de reproducción, distribución, comunicación pública y/o transformación total o parcial requiere el consentimiento expreso y escrito de aquéllos. Cualquier enlace al texto completo de los artículos del Portal de Revistas Científicas Complutenses debe efectuarse a la URL oficial de la Universidad Complutense de Madrid
ISSN
1130-0531