Sustainable behaviour in the workplace: the role of universities in promoting pro-environmental behaviour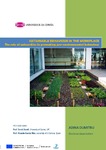 View/Open
Title
Sustainable behaviour in the workplace: the role of universities in promoting pro-environmental behaviour
Author(s)
Directors
García Mira, Ricardo
Uzzell, David

Date
2015
Center/Dept./Entity
Universidade da Coruña. Departamento de Psicoloxía
Abstract
[Resumen] Las organizaciones y sus empleados son algunos de los mayores consumidores de los recursos energéticos a nivel mundial (Kempton, Darley, & Stern, 1992; Oskamp, 2000; Stern, 2000). En los últimos años, hay cada vez mayor reconocimiento del papel que juegan las universidades en la transición hacia una sociedad más sostenible (Ki-Hoon et al., 2013; Lans et al., 2014; Sedlacek, 2013). La presente investigación analiza las barreras y los facilitadores del comportamiento proambiental en una organización pública de educación superior, en tres categorías de prácticas: el consumo de materiales y energía, la gestión de residuos y la movilidad relacionada con el trabajo. Después de llevar a cabo un análisis de la percepción de los trabajadores, se han analizado los factores estructurales, organizacionales e individuales que influyen en la adopción de comportamientos sostenibles en las organizaciones y en la creación de contextos que estimulen la innovación para el cambio organizacional sostenible. Los estudios se han llevado a cabo en una universidad pública gallega, adoptando un enfoque multi-método, que incluye grupos focales, entrevistas en profundidad, un cuestionario, y una metodología para el desarrollo de escenarios de futuro. Los resultados obtenidos a través del test de modelos predictivos muestran la importancia de los procesos de influencia social tanto para los trabajadores como para los estudiantes, y apuntan al potencial de las organizaciones para convertirse en contextos que promueven la autonomía e incentivan la implicación activa de los trabajadores y estudiantes en la busqueda de soluciones para la sostenibilidad.
[Resumo] As organizacións e os seus empregados son algúns dos maiores consumidores dos recursos enerxéticos mundiais (Kempton, Darley, & Stern, 1992; Oskamp, 2000; Stern, 2000). Nos últimos anos, cada vez hai un maior recoñecemento do papel que xogan as universidades na transición cara a unha sociedade máis sustentable (Ki-Hoon et al., 2013; Lans et al., 2014; Sedlacek, 2013). A presente investigación analiza as barreiras e os facilitadores do comportamento proambiental nunha organización pública de educación superior, en tres categorías de prácticas: o consumo de materiais e enerxía, a xestión de residuos e a mobilidade relacionada co traballo. Despois de levar a cabo unha análise das prácticas existentes e da súa percepción por parte dos traballadores, analizáronse os factores estruturais, organizacionais e individuais que inflúen na adopción de comportamentos sustentables nas organizacións e na creación de contextos que estimulen a innovación para o cambio organizacional sostible. Os resultados obtidos a través do test de modelos preditivos mostran a importancia dos procesos de influencia social tanto para os traballadores como para os estudantes, e tamén apuntan ao papel clave da cultura, o clima e a estrutura organizacional na xeración de obstáculos ou potenciadores dos comportamentos sustentables.
[Abstract] Organizations and their employees are among the largest users of the world´s energy resources (Kempton, Darley, & Stern, 1992; Oskamp, 2000; Stern, 2000). Recently, there has been a growing recognition of the role of universities in the transition towards a more sustainable society in recent years (Ki-Hoon et al., 2013; Lans et al., 2014; Sedlacek, 2013). The present research investigates the barriers to and drivers of pro-environmental behaviour in a public higher education organization, in three categories of practices: consumption of materials and energy, waste generation and management, and work-related mobility. After performing an exploration of workers´ perceptions, it investigates the role of structural, organizational and individual factors in the adoption of pro-environmental behaviour in organizations and in the creation of contexts that support innovation leading to sustainable organizational change. The studies reported were carried out taking a public university in Galicia (Spain) as a case study, and used a multi-method approach that included focus groups, in-depth interviews, a questionnaire and a back-casting scenario development methodology. Results give support to predictive models of pro-environmental behaviour that postulate a normative route to behaviour for both workers and students, and point to the potential for organizations to become autonomy-promoting contexts that encourage the pro-active engagement of workers in formulating and implementing creative sustainability sollutions.
Keywords
Recursos energéticos-Aspecto económico
Mercado de trabajo-Efectos de las innovaciones tecnológicas sobre el
Medio ambiente-Protección
Desarrollo sostenible-Aspecto social
Rights
Os titulares dos dereitos de propiedade intelectual autorizan a visualización do contido desta tese a través de Internet, así como a súa reproducción, gravación en soporte informático ou impresión para o seu uso privado e/ou con fins de estudo e de investigación. En nengún caso se permite o uso lucrativo deste documento. Estos dereitos afectan tanto ó resumo da tese como o seu contido Los titulares de los derechos de propiedad intelectual autorizan la visualización del contenido de esta tesis a través de Internet, así como su repoducción, grabación en soporte informático o impresión para su uso privado o con fines de investigación. En ningún caso se permite el uso lucrativo de este documento. Estos derechos afectan tanto al resumen de la tesis como a su contenido