Rehabilitación y restauración de vivienda unifamiliar de estilo colonial para Escuela de Música y Danza en la Villa de Ferreira do Valadouro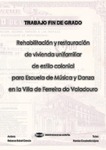 Collections
Title
Rehabilitación y restauración de vivienda unifamiliar de estilo colonial para Escuela de Música y Danza en la Villa de Ferreira do Valadouro
Author(s)
Directors
Casabella López, Ramiro
Date
2015
Center/Dept./Entity
Universidade da Coruña. Escola Universitaria de Arquitectura Técnica
Description
Traballo fin de grao (UDC.EUAT). Arquitectura técnica. Curso 2014/2015.
Abstract
[Resumen] El presenta trabajo fin de grado pretende aunar todos los conocimientos adquiridos a los largo de mi formación como arquitecto técnico en un proyecto de rehabilitación y restauración. Para ello nos apoyamos en una antigua vivienda colonial situada en Ferreira do Valadouro. De ella trataremos de respetar, en la medida de lo posible, su esencia, manteniendo prácticamente intacta su fachada principal, la más característica. Comenzamos este proyecto con una pequeña descripción de la zona en la que se encuentra ubicada, así como la historia de la edificación y su promotor, un emigrante cubano proveniente de una importante familia de políticos y empresarios vecinos de O Valadouro. Se estudia a continuación el estado actual de la construcción, con una pequeña introducción explicativa de las lesiones patológicas que en ella podríamos encontrar, y cuyas fichas resumen se encuentran en el Anexo I. Esta construcción servirá de base para la creación de una escuela de música y danza. Aprovechando el espacio libre en la planta semisótano, se pretende bajar un poco más la cimentación, de modo que quede una planta habitable con una altura de 2,50 metros en la que se instalarán los vestuarios. La instalación de saneamiento se facilita enormemente por la ventaja de que esta vivienda tiene salida a dos calles, a distintos niveles, y que hace que la fachada trasera no quede subterránea permitiendo la salida de conductos sin necesidad de superar un desnivel. El hecho de que se trate de un edificio de carácter cultural nos ha permitido ejecutar un pequeño auditorio que, después de respetar las distancias necesarias para asegurar la visibilidad perfecta de todo el escenario, ha resultado con 48 plazas más una reservada para asegurar la accesibilidad de la estancia. En la primera planta nos encontramos una sala diáfana, con un gran espacio para las clases de danza, un espacio reservado para la dirección del centro, zonas de espera y un pequeño espacio acristalado donde se ha previsto la instalación de un pequeño escritorio para el profesorado. En ella se han incorporado también la instalación de grandes espejos y barras que faciliten la práctica de esta disciplina artística. También pensando en las personas que acudan a las clases, se ha dispuesto una zona de cambiadores que paneles laminados que dejen un espacio libre tanto por debajo como por encima lo que permita la ventilación de eses espacios. Esta zona tendrá una excelente iluminación, tanto por los grandes ventanales, respetando la forma de los originales, de la fachada principal, como por el hueco que se ha abierto a modo de tragaluz en la planta superior y que permite la entrada directa de luz desde la cubierta. En la segunda planta se encuentran las zonas de ensayo de instrumentos, pensando en ello se han dispuesto "boxes" de ensayo totalmente aislados acústicamente para que los distintos instrumentos no interfieran entre sí mientras se está practicando. También se habilitarán unas aulas de teoría conjunta para las clases de solfeo. Con todo ello pretendemos estudiar la posible ejecución de este proyecto desde el mayor número de puntos de vista posibles: la edificación de espacios de pública concurrencia, el aislamiento de zonas especiales, la búsqueda de la máxima accesibilidad posible, el tratamiento de pavimentos especiales, etc.
[Abstract] The present work aims to unite to grade all the knowledge acquired during my training as a technical architect on a project of rehabilitation and restoration. For this we rely on an old colonial house located in Ferreira do Valadouro. It will try to comply as far as possible, its essence, maintaining its façade virtually intact, the most characteristic. We started this project with a brief description of the area where it is located, as well as the history of the building and its promoter, a Cuban emigrant from a prominent family of politicians and businessmen Valadouro neighbors. It then examines the current state of the building, with a small explanatory introduction of pathological lesions that she could find, and whose records are summarized in Annex I. This construction will provide the basis for the creation of a school of music and dance. Taking advantage of the free space on the lower ground floor, it is intended to lower a little foundation, so it is a living plant with a height of 2.50 meters in the changing rooms will be installed. The installation of sanitation is greatly facilitated by the advantage that this property has access to two streets, at different levels, and makes the rear facade not stay underground ducts allowing output without passing a slope. The fact that it is a building of a cultural nature has allowed us to run a small auditorium that after respect necessary to ensure perfect visibility around the stage distances, proved plus 48 seats reserved to ensure accessibility stay. On the first floor we find an open room with plenty of space for dance classes, reserved for the school management, waiting areas and a small glass space where space is planned to install a small desk for teachers . It has also incorporated the installation of large mirrors and bars to facilitate the practice of this art form. Also thinking about the people who attend classes, there is provided an area of laminate panels changers to leave a free space both below and above which allow ventilation spaces esses. This area will have an excellent lighting, both through the large windows, respecting the original form of the facade, for the gap that has opened as a skylight on the top floor and allows direct entry of light from the cover. On the second floor are the areas of testing instruments, thinking about it are arranged "boxes" completely isolated acoustically test for individual instruments do not interfere with each other while practicing. A joint classroom theory also enabled for voice lessons. With all this, we analyze the possible implementation of this project from the greater number of possible points of view: the building of places of public assembly, insulation of special areas, the search for maximum accessibility, the treatment of special paving, etc. .
Keywords
Rehabilitación
Valadouro
Casas de indianos
Arquitectura colonial
Reutilización
Escuela de Música y Danza
Rehabilitation
Rights
Os titulares dos dereitos de propiedade intelectual autorizan a visualización do contido deste traballo a través de Internet, así como a súa reproducción, gravación en soporte informático ou impresión para o seu uso privado e/ou con fins de estudo e de investigación. En nengún caso se permite o uso lucrativo deste documento. Estos dereitos afectan tanto ó resumo do traballo como o seu contido Los titulares de los derechos de propiedad intelectual autorizan la visualización del contenido de este trabajo a través de Internet, así como su repoducción, grabación en soporte informático o impresión para su uso privado o con fines de investigación. En ningún caso se permite el uso lucrativo de este documento. Estos derechos afectan tanto al resumen del trabajo como a su contenido