Calidad de vida relacionada con la salud en trabajadoras del sector pesquero usando el cuestionario SF-36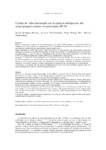 View/Open
Title
Calidad de vida relacionada con la salud en trabajadoras del sector pesquero usando el cuestionario SF-36
Author(s)
Date
2013-03-13
Citation
Rodríguez-Romero B, Pita-Fernández S, Pertega Díaz S, Chouza-Insua M. Calidad de vida relacionada con la salud en trabajadoras del sector pesquero usando el cuestionario SF-36. Gac Sanit. 2013;27(5):418-424.
Abstract
[Resumen] Objetivo. Determinar la calidad de vida relacionada con la salud (CVRS) mediante el cuestionario SF-36 en trabajadoras del sector pesquero, y compararla con valores normalizados de población de referencia y con valores de otras muestras similares que presentan trastornos musculoesqueléticos. Método. Mediante un estudio transversal se midió la CVRS en 917 mariscadoras a pie seleccionadas a partir de la participación voluntaria en un taller de fisioterapia. Se utilizó un cuestionario autoadministrado que incluía variables sociodemográficas, de estilo de vida, de comorbilidad, de prevalencia de dolor musculoesquelético y de CVRS. Para el SF-36 se calcularon puntuaciones crudas, puntuaciones estandarizadas y puntuaciones z. Resultados. La edad media de las participantes es de 50,6 años (desviación estándar: 8,8). En todas las dimensiones del SF-36 la muestra tuvo valores inferiores que la población general de referencia. Las mayores diferencias se observaron en las personas más jóvenes. Las dimensiones más afectadas, superando la diferencia mínimamente importante, fueron dolor corporal, vitalidad y salud general. Su salud física está más afectada que su salud mental. Conclusiones. Se demuestra que este grupo de trabajadoras tiene peor CVRS que la población general y que otras muestras poblacionales, sobre todo en los componentes físicos.
[Abstract] Objective. To determine health-related quality of life (HRQoL) measured with the 36-item Short-Form (SF-36) questionnaire in women workers in the fishing industry, compared with norm-based values in the reference population and other similar samples of persons with musculoskeletal disorders. Method. A cross-sectional study was performed to measure HRQoL in 917 shellfish gatherers. Women taking part in a physiotherapy workshop were invited to participate. We used a self-administered questionnaire, including questions on sociodemographic variables, lifestyle, comorbidity, the prevalence of musculoskeletal disorders, and HRQoL. For the SF-36 raw scores, norm-based scores and z-scores were calculated. Results. The mean age of participants was 50.6 years (standard deviation: 8.8). In all dimensions of the SF-36, values in the sample were lower than in the general reference population. The greatest differences were in younger people. The most affected dimensions were bodily pain, vitality and general health. Physical health was more affected than mental health. Conclusions. HRQoL, especially physical components, was worse in women shellfish gatherers than in the general population and other population samples.
Keywords
Calidad de vida
Enfermedades musculoesqueléticas
Trabajo
Mujeres
Estado de salud
Quality of life
Musculoskeletal diseases
Work
Women
Health status
Editor version