La transformación del Estado del bienestar desde la óptica municipal: breve estudio comparado del gobierno y la administración local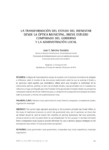 View/Open
Collections
Title
La transformación del Estado del bienestar desde la óptica municipal: breve estudio comparado del gobierno y la administración local
Author(s)
Date
2014
Citation
Anuario da Facultade de Dereito da Universidade da Coruña, 2014, 18:171-193. ISSN: 1138-039X
Abstract
[Resumen:] La lógica de funcionamiento actual de acuerdo con el principio económico ha obligado a reflexionar sobre el estudio de las estructuras tradicionales sobre las que se asienta el Estado y, en particular, sobre aquellas que, entendemos, deben servir para recuperar la credibilidad de las instituciones políticas públicas, es decir, las entidades locales, cuya proximidad con el ciudadano las coloca en un lugar privilegiado para esta finalidad. Se ha aproximado el estudio desde una perspectiva comparada tratando de ofrecer referencias para su utilización en la adopción de estrategias de análisis sobre la evolución y reforma de la administración local.
[Abstract:] The current logic operation according to the economic principle has forced reflect on the study of traditional structures on which the government rests, and in particular on those that we believe should be used to restore the credibility of political institutions, the local authorities, whose proximity to the city places them in a privileged place for this purpose. It has been estimated from a comparative study trying to provide references for use in decision analysis strategies on the development and reform of local government perspective.
Keywords
Gobierno local
Administración local
Derecho comparado
Competencias locales
Organización municipal
Local government
Comparative law
Local competitions
Municipal organization
ISSN
1138-039X
Related items
Showing items related by title, author, creator and subject.
Guerra, João

;

Schmidt, Luisa

(

Universidade da Coruña, Servizo de Publicacións

,

2017

)

[Resumo] Assumindo como pressuposto o papel estratégico dos municípios, das comunidades locais e da educação ambiental no esforço conjunto de resposta às alterações climáticas, o projeto ClimAdaPT.Local teve como objetivo ...

Álvarez Corbacho, Xoaquín

(

Universidade da Coruña

,

1998

)

Meilán Gil, José Luis

(

Universidade da Coruña

,

2000

)