La efectividad de los derechos de los trabajadores y del empresariado desde la implantación de las tecnologías en el ámbito laboral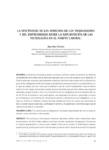 View/Open
Collections
Title
La efectividad de los derechos de los trabajadores y del empresariado desde la implantación de las tecnologías en el ámbito laboral
Author(s)
Date
2014
Citation
Anuario da Facultade de Dereito da Universidade da Coruña, 2014, 18:79-106. ISSN: 1138-039X
Abstract
[Resumen:] La inmersión tecnológica genera continuos conflictos cuando se ejercitan los derechos fundamentales en el ámbito de las relaciones laborales que no han sido resueltos por el legislador. El Derecho tiene que responder adecuadamente a diversas cuestiones relacionadas con la utilización por parte de los trabajadores de las tecnologías propiedad de la empresa durante su jornada laboral y en el lugar de trabajo, así como otras que se plantean a raíz del control empresarial a través de dichos medios. En este trabajo se pretenden analizar diversos elementos que permiten obtener una respuesta adecuada y proporcionada: si hay o no conocimiento por los trabajadores de las condiciones del uso de las TICs de la empresa lo que puede generar una expectativa de secreto o privacidad, el acceso por el empresario a los sistemas de comunicación puestos a disposición de sus trabajadores y, en su caso, los criterios, la finalidad y alcance de estas medidas de control en cuanto que restrictivas, es decir, si existen razones objetivas y justificadas en derecho o se puede estar cometiendo algún tipo de injerencia más allá de lo razonable.
[Absract]: The continuous technological immersion generates conflicts when fundamental rights are exercised in the field of labor relations that have not been resolved by the legislature. The law has to respond appropriately to various issues related to the use by workers of technologies company property during working hours and in the workplace, as well as others that arise as a result of corporate control through the media. This paper is intended to analyze various components producing an appropriate and proportionate response: whether or not knowledge workers in terms of the use of ICT company which can generate an expectation of confidentiality or privacy, access by the employer to communication systems made available to its employees and, where appropriate, criteria, purpose and scope of these control measures as restrictive, ie, if there are objective and justifiable right reasons or can be making some kind of interference beyond reason.
Keywords
TICs
Derechos de los trabajadores
Facultades empresariales de control
Buena fe
Internet
Correo electrónico
Redes sociales
ICT
Workers' rights
Corporate powers of control
Good faith
Internet
Email
Social networking.
ISSN
1138-039X