Las Cajas de Ahorros Gallegas y el impacto de la crisis económica : análisis sobre su evolución, fusión y transformación en NCG Banco, S.A.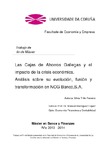 Collections
Title
Las Cajas de Ahorros Gallegas y el impacto de la crisis económica : análisis sobre su evolución, fusión y transformación en NCG Banco, S.A.
Author(s)
Directors
Rodríguez López, Manuel
Date
2014
Center/Dept./Entity
Universidade da Coruña. Facultade de Economía e Empresa
Description
Traballo fin de mestrado (UDC.ECO). Banca e finanzas. Curso 2013/2014
Abstract
[Resumen] La motivación de este trabajo viene dada por el gran interés en conocer por qué desaparecen las Cajas de Ahorro y qué han hecho mal para merecer este final, además de la importancia que tiene este sector hoy en día. Aunque en este trabajo se explica todo el marco legislativo que las rige, además del nacimiento y transcurso de las Cajas de ahorro gallegas, su expansión y su crecimiento, el objetivo final de este trabajo es mostrar el cambio, explicar cómo han pasado de ser las más competitivas e incluso superar a los Bancos, a sufrir intensos cambios con la aparición de la crisis del 2007 y llegar a desaparecer. Este trabajo comienza con el marco jurídico de las Cajas de Ahorro, explicando las leyes que las han regulado desde el siglo XIX hasta el XXI. Se expone en un segundo punto el nacimiento de las Cajas de Ahorro Gallegas y la creación y evolución de Caixanova, Caixagalicia y Novacaixagalicia, en adaptación a éstas leyes. Un tercer punto se divide en 3 fases: la primera fase comprende la situación económica y financiera desde los inicios de las Cajas hasta 2003, la segunda desde 2003 a 2008 y la última desde 2008 a 2010. En todas se muestra gráficamente la evolución del volumen de negocio, el número de oficinas, el número total de empleados y número de empleados por oficina, la productividad y rendimiento del negocio. Además, al final de este tercer punto se explica la crisis económica y financiera global actual por la que han sufrido nuestras Cajas. Finalmente, en un último y cuarto punto, concluyo con la explicación de la desaparición de las Cajas de Ahorro gallegas y la provocación de la bancarización, exponiendo la aparición y evolución de NCG Banco, S.A.
[Abstract] The main motivation of this project is due to the great interest in knowing why the Savings Banks are disappearing and what they have been wrong in order to deserve this end. In addition to this, we must emphasize the importance of this sector nowadays. Nevertheless in this project we explain the legal framework which the Savings Banks are regulated by, including their origin, evolution, expansion and growth, the definitive objective is to show the change, that is, to explain how they have developed from being the most competitive financial institutions to suffer deep changes due to the beginning of the crisis. As a consequence of this situation, they have commenced to disappear. This essay begins with the legal framework of Savings Banks explaining the laws that have regulated them from the 19th century to the current 21st. We present in the second point the origin of the Galician Savings Banks and also the creation and evolution of Caixanova, Caixagalicia and Novacaixagalicia according to the mentioned rules. The third point is divided in three stages: first of all, we describe the economic and financial situation from the beginning to 2003, the second one, from 2003 to 2008 and finally from 2008 to 2010. In all of them, we demonstrate the evolution of the turnover by graphics, the number of branches, productivity and business return. In addition to this, at the end of this third point we explain the effect that the economic and financial crisis has caused in Savings Banks. In the fourth and last point, we conclude with the disappearance of Galician Savings Banks and the stimulation of Banks and the origin and evolution of NCG Banco.
Keywords
Cajas de ahorro gallegas
Marco jurídico
Expansión
Crisis
Capitalización
Bancarización
Galician savings banks
Legal framework
Expansion
Crisis
Capitalization
Bank process
Rights
Os titulares dos dereitos de propiedade intelectual autorizan a visualización do contido deste traballo a través de Internet, así como a súa reproducción, gravación en soporte informático ou impresión para o seu uso privado e/ou con fins de estudo e de investigación. En nengún caso se permite o uso lucrativo deste documento. Estos dereitos afectan tanto ó resumo do traballo como o seu contido Los titulares de los derechos de propiedad intelectual autorizan la visualización del contenido de este trabajo a través de Internet, así como su repoducción, grabación en soporte informático o impresión para su uso privado o con fines de investigación. En ningún caso se permite el uso lucrativo de este documento. Estos derechos afectan tanto al resumen del trabajo como a su contenido