The habitus and the New: from social (re)learning to practices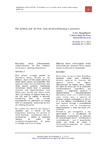 View/Open
Collections
Title
The habitus and the New: from social (re)learning to practices
Author(s)
Date
2012
Citation
Revista Latina de Sociología, 2012, 2: 23-41. ISSN: 2253-6469
Abstract
[Abstract] This article, strongly guided by Bourdieu's theory, focuses on the different places of the social sphere in which social agents are immersed. The approach takes into consideration that these places produce conditional restrictions which tend to generate practices and representations, with which some identify and others avoid. Here, the concept of habitus takes on a key role and its rigidity is rejected, considering that the concept encompasses the possibility of change with its consequent readjustments to a pre-existing structure.The author thus defends the concept's plasticity and a review of the dispositions governing the process of social learning – socialisation and re-socialisation – which is analysed bearing in mind the inculcation/incorporation of (new) knowledge and ways of doing.
[Resumo] Neste texto, em que a teoria bourdiana funciona como uma verdadeira bússola, parte-se da inserção dos agentes sociais em lugares diferenciados no espaço social, tendo em linha de conta que aí se produzem condicionalismos específicos que tendem a engendrar práticas e representações simultaneamente identitárias entre uns e diversificadas entre outros. Aqui, o conceito de habitus adquire centralidade e rejeita-se a sua rigidez, considerando-se que este conceito abrange a possibilidade de mudança com os consequentes reajustamentos a uma estrutura pré-existente.Defende-se, por conseguinte, a sua plasticidade e a atualização de disposições incorporadas no processo de aprendizagem social – socialização e ressocialização - que é equacionada tendo em linha de conta a inculcação/incorporação de (novos) saberes e fazeres.
Keywords
Diferenciaçâo social
(Re)socializaçâo
Elemento novo
Espaço social
Actualizaçâo de disposiçôes
Social differentiation
(Re)socialisation
The new element
Social space
Updating dispositions
ISSN
2253-6469
Related items
Showing items related by title, author, creator and subject.
Barbeito Torrente, Silvia

(

2016-09

)

[Resumen] Introducción: La familia es un elemento clave en el proceso de recuperación en personas con trastorno mental grave, siendo proveedora de información útil para la recuperación de la persona y proporcionando apoyo ...

Modroño Alborés, Paula

(

2019

)

[Resumen] El presente trabajo pretende realizar un análisis documental acerca de las monedas sociales dentro del contexto español, profundizando en la iniciativa de los Bancos del Tiempo en la ciudad de Vigo. En este último ...

Díaz de la Rosa, Angélica

(

Universidade da Coruña

,

2007

)

[Resumen] El presente trabajo analiza el fenómeno de las cooperativas de iniciativa social en España, tanto desde un punto de vista de Derecho estatal como autonómico. Se incide especialmente en el concepto de cooperativa ...