Legislaçâo educacional e inclusâo na Universidade Federal do Río de Janeiro (Brasil) e na Universidade de Córdoba (Espanha)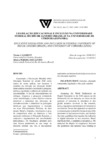 View/Open
Collections
Title
Legislaçâo educacional e inclusâo na Universidade Federal do Río de Janeiro (Brasil) e na Universidade de Córdoba (Espanha)
Alternative Title(s)
Educative legislation and inclusion in Federal University of Rio de Janeiro (Brazil) and University of Cordoba (Spain)
Date
2012
Citation
Revista Galego-Portuguesa de Psicoloxía e Educación, 2012, 20: 7-23. ISSN: 1138-1663
Abstract
[Resumo] Assumindo a Declaração Mundial sobre Educação Superior no século XXI como marco de nossa análise, nos focamos à temática da inclusão em educação dentro deste cenário mundial vinculando a pesquisa, política, legislação e práticas de inclusão em universidades. A fim de contemplarmos tal enfoque, elegemos a pesquisa comparada como metodologia, e como objetivo comum descrever o panorama dos processos de inclusão/exclusão e identificar as principais diretrizes que regulamentam a inclusão em duas Universidades Públicas, de dois países: Brasil e Espanha. Analisamos o grau de congruência entre as diretrizes e leis nacionais referentes à Educação Superior, e estatutos e regulamentos das universidades participantes. Os resultados apontam para uma leitura promissora no que tange ao discurso contido nas leis e documentos analisados em termos de princípios inclusivos em educação superior.
[Abstract] Assuming the World Declaration on Higher Education in the XXI century as the framework for our analysis, we focus on the question of inclusion in education in this global scenario involved in the research, policy, legislation and practices of inclusion in universities. To see this approach we opted for a common goal, to describe the panorama of the processes of inclusion/exclusion and identify the main guidelines that regulate the inclusion in higher education in two countries: Brazil and Spain from a comparative perspective. We analyzed the degree of congruence between the guidelines and national laws relating to higher education, and laws and regulations of the participating universities. And the results are promising.
[Resumen] En las dos últimas décadas la Inclusión en Educación y la Enseñanza Superior son dos temas candentes en los ámbitos político y científico en numerosos países por todo el mundo, especialmente en Europa. En nuestra investigación hemos estudiado ambos temas, imbricando intereses y necesidades que, tanto desde la Inclusión Educativa como desde la Enseñanza Superior, se están demandando. Con el fin de contemplar esta preocupación conjunta, optamos por un objetivo común, describir el panorama de los procesos de inclusión/exclusión e identificar las principales directrices que regulan la inclusión en la educación superior de dos países: Brasil y de España desde una perspectiva comparada, en el marco de la investigación internacional: "Culturas, Políticas e Prácticas de Inclusão em Universidades: um foco na formação inicial de professores", apoyada por el Ministerio de Educación brasileño y las universidades Federal de Río de Janeiro (Brasil) y de Córdoba (España).
Keywords
Inclusâo
Educaçâo comparada
Legislaçâo e educaçâo superior
Inclusion in education
Comparative education
Legislation and higher education
ISSN
1138-1663