Avances en la arquitectura geriátrica en Galicia: el geriátrico de la Fundación José Otero-Carmela Martínez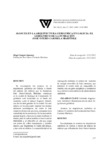 View/Open
Collections
Title
Avances en la arquitectura geriátrica en Galicia: el geriátrico de la Fundación José Otero-Carmela Martínez
Author(s)
Date
2012
Citation
Revista Galego-Portuguesa de Psicoloxía e Educación, 2012, 20: 217-227. ISSN: 1138-1663
Abstract
[Resumen] Se investigaron los avances en la arquitectura geriátrica en Galicia a través del análisis del edificio que la Fundación José Otero-Carmela Martínez construyó en la ciudad de Santiago de Compostela. El geriátrico está localizado en el borde del ensanche, junto al parque Eugenio Granell, uno de los más grandes de la ciudad. En este edificio se ha procurado emplear los últimos adelantos tecnológicos, así como el más completo abanico de servicios, pensando en la comodidad de los residentes. Se ha pretendido aportar alegría y frescura al centro mediante el diseño, para lo cual se modifica el muro cortina tradicional y se convierte en uno que juega con paños de vidrio transparente y paneles opacos, que fragmentan la visión del parque, y dan color al edificio. La sostenibilidad se ha conseguido mediante el empleo de sistemas de energía renovable de bajo consumo, que permiten al centro estar en vanguardia en confort, con un gasto energético y económico muy inferior a otros edificios de características similares.
[Abstract] Investigáronse os avances na arquitectura xeriátrica en Galicia a través da análise do edificio que a Fundación José Otero-Carmela Martínez construíu na cidade de Santiago de Compostela. O xeriátrico está localizado ó bordo do ensanche, xunto o parque Eugenio Granell, un dos máis grandes da cidade. Neste edificio procurouse empregar os últimos adiantos tecnolóxicos, así como o máis completo abanico de servicios, pensando na comodidade dos residentes. Pretendeuse aportar alegría e frescura ó centro mediante o deseño, polo que se modifica o muro cortina tradicional nun que xoga con panos de vidro transparente e paneis opacos, que fragmentan a visión do parque, e dan color ó edificio. A sostibilidade conséguese mediante o emprego de sistemas de enerxía renovable de baixo consumo, que permiten ó centro estar na vangarda en confort, cun gasto enerxético e económico moi inferior a outros edificios de características semellantes.
[Resumo] Advances in geriatric architecture in Galicia were assessed by analysis the nursing home for the elderly built by the José Otero-Carmela Martinez Foundation in the city of Santiago de Compostela (Northwestern Spain). The nursing home is located on the outskirts of a suburb next to the Eugenio Granell Park, one of the largest in the city. The building was designed with state-of-theart technology, and a wide range of services to cater for the needs of the residents. A key architectural feature is the façade that seeks to transmit a sense of joy and freshness to the Centre, steering away from the curtain wall traditional through the juxtaposition of transparent sheets of glass and opaque panels that fragment the view of the Park and bring colour to the building. Sustainability is achieved through the use of energy-saving renewable energy devices which allow for the greatest comfort at the lowest costs in comparison to other buildings of similar characteristics.
Keywords
Geriatría
Arquitectura
Residencia Tercera Edad
Arquitectura geriátrica
Geriatrics
Architecture
Nursing home for the elderly
Geriatric architecture
ISSN
1138-1663