Professores em formaçâo em busca dos sentidos contemporâneos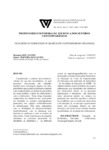 View/Open
Collections
Title
Professores em formaçâo em busca dos sentidos contemporâneos
Alternative Title(s)
Teachers in formation in search of contemporary meanings
Date
2012
Citation
Revista Galego-Portuguesa de Psicoloxía e Educación, 2012, 20: 171-184. ISSN: 1138-1663
Abstract
[Resumo] Considerando o contexto sócio-históricocultural em que nos encontramos, no qual processos educacionais são mediados também pelas tecnologias digitais em rede, percebemos que as práticas formativas passam a ser ressignificadas, no sentido de que podem ser feitas também a partir da cibercultura e com a cibercultura. Neste artigo buscamos compreender nas narrativas dos professores em formação os sentidos contemporâneos produzidos nos espaços multirreferenciais de aprendizagem. Para tanto, dialogamos com as abordagens da pesquisa-formação multirreferencial, com as pesquisas nos/ dos/com os cotidianos e com os estudos da cibercultura. Como instrumentos de pesquisa utilizamos as conversas presenciais no laboratório de informática e no ambiente virtual de aprendizagem(Moodle) com os professores-cursistas da disciplina Informática na Educação do Curso de Especialização em Educação com Aplicação da Informática - da Faculdade de Educação da UERJ. Os achados obtidos a partir da análise das noções subsunçoras que emergiram das narrativas dos professores foram: a) os processos educacionais e formativos nas diferentes redes educativas podem ser criados via pesquisas que articulem questões e práticas dos cotidianos com os estudos da cibercultura e da educação; b) os usos que os professores fazem das tecnologias digitais em rede dentrofora da escola fazem emergir diversas possibilidades de produção de conhecimento.
[Abstract] Considering the socio-historical-cultural context in which we are inserted, in which educational processes are also mediated by networked digital technologies, we realize that formative practices tend to be re-signified, in the sense that they can also derive from the cyberculture and along with the cyberculture. In this article we seek to understand, from the accounts of teachers in training, the contemporary meanings produced in the multi-referential learning environments. To this end, we recur to the approaches of the multi-referential research-training, as well as to the research pertaining to the everyday practices and to the cyberculture studies. The research tools used were the conversations in person in the laboratory of computer science and in the virtual learning environment (Moodle) with the teachers-students of the Computer Science in Education discipline of the Graduate Specialization in Computer Science Applied to Education of the Faculdade de Educação of the Universidade do Estado do Rio de Janeiro (UERJ). The analysis of the general notions that emerged from the narratives of the teachers revealed that: a) educational and formative processes can be created in the different educational networks by means of research activities that combine questions and practices of the everyday life with cyberculture and education studies; b) the ways in which the teachers use the digital network technologies inside/outside the school bring forward several possibilities of knowledge production.
[Resumen] Tomando en consideración que el contexto socio-histórico-cultural en donde nos encontramos, en el cual los procesos educativos también son mediados por las tecnologías digitales en red, notamos que las prácticas formativas pasan a ser resignificadas, entendiéndose que se pueden también hacerlas desde la cibercultura y con la cibercultura. En este artículo buscamos comprender en las narrativas de los profesores en formación, los sentidos contemporáneos producidos en los espacios multirreferenciales del aprendizaje. Para tanto, dialogamos con los abordajes de la investigación-formación multirreferencial, con las investigaciones en/de/con los cotidianos y con los estudios de la cibercultura. Como instrumentos de la investigación utilizamos las conversaciones en el laboratorio de Informática y en el ambiente virtual de aprendizaje (Moodle) con los profesores-cursistas de la asignatura Informática en la Educación, del Curso de la Especialización en Educación con el uso de la Informática - de Facultad de Educación de la Universidad del Estado del Río de Janeiro - UERJ. Los hallazgos logrados con el análisis de las nociones generales que emergieron de las narrativas de los profesores fueron: a) los procesos educativos y formativos en las diversas redes educativas se pueden criar por medio de investigaciones que articulan cuestiones y prácticas de los cotidianos con los estudios de la cibercultura y de la Educación; b) los usos que los profesores hacen de las tecnologías digitales en la red dentrofuera de la escuela hacen que se desarrollen posibilidades diversas de producción del conocimiento.
Keywords
Formaçâo de professores
Educaçâo
Cibercultura
Tecnologias digitais em rede
Teacher training
Education
Cyberculture
Network digital technologies
ISSN
1138-1663