Modelo para mudanças de atitudes sociais em relaçâo à inclusâo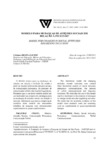 View/Open
Collections
Title
Modelo para mudanças de atitudes sociais em relaçâo à inclusâo
Alternative Title(s)
Model for changes in social attitudes regarding inclusion
Author(s)
Date
2012
Citation
Revista Galego-Portuguesa de Psicoloxía e Educación, 2012, 20: 83-98. ISSN: 1138-1663
Abstract
[Resumo] O Modelo teórico para as mudanças de atitudes em relação à inclusão foi criado a partir de estudos teóricos das atitudes sociais, da comunicação persuasiva, do processo de comunicação verbal e das funções lingüísticas. Pensamos que o uso deste modelo poderá ser um facilitador nas criações de estratégias para as mudanças de atitudes sociais em relação à inclusão. Afirmamos que para a comprovação científica deste modelo são necessários trabalhos de pesquisa com delineamentos experimentais ou quase experimentais.
[Abstract] The theoretical model for changing attitudes toward inclusion was created from theoretical studies of social attitudes, persuasive communication, the process of verbal communication and linguistic functions. We think that the use of this model can be a facilitator in the creation of strategies to change social attitudes regarding inclusion. We claim that for scientific evidence of this model some research work are necessary with on experimental or quasi-experimental designs.
[Resumen] El modelo teórico para el cambio de actitudes hacia la inclusión fue creado a partir de los estudios teóricos de las actitudes sociales, de la comunicación persuasiva, del proceso de la comunicación verbal y de las funciones lingüísticas. Creemos que el uso de este modelo podrá ser un facilitador en las creaciones de estrategias para cambiar las actitudes sociales con respecto a la inclusión. Nos dicen que la evidencia científica para este modelo el trabajo de investigaciones necesario sobre los diseños experimentales o cuasiexperimentales.
Keywords
Modelo
Atitudes sociais
Comunicaçâo persuasiva
Comunicaçâo verbal
Model
Social attitudes
Persuasive comunication
Verbal communication
ISSN
1138-1663