Representaçôes profissionais dos professores. Uma abordagem tridimensional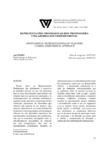 View/Open
Collections
Title
Representaçôes profissionais dos professores. Uma abordagem tridimensional
Alternative Title(s)
Professional Representations of Teachers A three-dimensional approach
Author(s)
Date
2012
Citation
Revista Galego-Portuguesa de Psicoloxía e Educación, 2012, 20: 65-82. ISSN: 1138-1663
Abstract
[Resumo] Pensar sobre as Representações Profissionais dos professores é pensar-se na profissão docente no que ela representa para os seus intervenientes mais diretos, nas relações entre as expectativas idealizadas e os constrangimentos da realidade profissional; significa, ainda, percorrer um processo de (re) construção permanente de identidades que refletem uma maneira de ser, pensar e agir comuns, específicas de um corpo profissional de docentes. Este artigo propõe uma abordagem reflexiva de três dimensões específicas das representações profissionais dos professores, mas que se encontram interligadas entre si, influenciando-se mutuamente no conjunto das suas (re)definições. São elas: as representações profissionais docentes, as práticas docentes e as identidades profissionais dos professores unidas por um denominador comum - a socialização profissional ou a rede de interações comunicacionais que se estabelece entre os sujeitos no local de trabalho, palco onde "tudo se joga", cenário onde se (re)elaboram identidades e constroem sentidos, redefinem posições, ensaiam acordos de representações plurais, múltiplas e diversificadas como se de um organismo vivo se tratasse. Neste estudo, procuramos ainda aplicar à realidade representacional dos professores os contributos reflexivos que os diversos estudos da psicologia social, da sociologia e da filosofia trouxeram para a análise e compreensão da formação e construção das representações profissionais.
[Abstract] Think about the teachers' Professional Representations is to think about the teaching profession in that it represents for its direct actors, in relations between the idealized expectations and constraints of professional reality; means, yet, go through a process of (re) permanent construction of identities that reflect a way of being, thinking and acting are common, specific to a professional body for teachers. This article proposes a reflective approach of three specific dimensions of professional teachers, but representations which are interconnected with each other, influencing each other in the sum of its (re) settings. They are: professional teachers representations, practices teachers and teachers' professional identities together by a common denominator -the professional socialization or the network of communication interactions which establishes itself between the subject in the workplace, the stage where "everything playing" scenario where if (re) produce identities and build senses, redefine positions, plural representations agreements, multiple and diverse as a living organism. In this study, we seek to apply to reality representational of the teachers that the various contributions reflective studies of social psychology, sociology and philosophy brought to the analysis and understanding of the formation and construction of professional representation.
[Resumen] Piensar acerca de las representaciones de los docentes profesional creo que si es en la profesión docente que representa para sus actores directos, en las relaciones entre las expectativas idealizadas y restricciones de la realidad profesional; significa, sin embargo, ir a través de un proceso de (re)construcción permanente de identidades que reflejan una forma de ser, pensar y actuar comunes, específicos de un organismo profesional para profesores. Este artículo propone un planteamiento reflexivo de tres dimensiones específicas de maestros profesionales, pero representaciones que están interconectadas entre sí, que influyen mutuamente en la suma de su (re)configuración. Son: representaciones de maestros profesionales, profesores de prácticas y identidades profesionales de maestros juntas por un común denominador: la socialización profesional o la red de interacciones de comunicación que se establece entre el sujeto en el lugar de trabajo, el escenario donde "todo jugando" escenario donde si (re)produce identidades y construir sentidos, redefinir posiciones, acuerdos de representación plural, múltiple y diversa como un organismo vivo. En este estudio, buscamos aplicar a la realidad representación de los maestros que trajeron los diversos estudios reflexivo de contribuciones de la psicología social, sociología y filosofía para el análisis y la comprensión de la formación y la construcción de la representación profesional.
Keywords
Representaçôes profissionais docentes
Práticas e identidades profissionais
Professional teacher representations
Practices and professional identities
ISSN
1138-1663