Consumo responsable de alimentos en A Coruña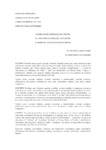 Title
Consumo responsable de alimentos en A Coruña
Author(s)
Directors
Martín Palmero, Federico
Date
2013
Center/Dept./Entity
Universidade da Coruña. Facultade de Socioloxía
Description
Traballo fin de grao (UDC.SOC). Socioloxía. Curso 2012/2013
Abstract
[Resumen] El trabajo aquí planteado, pretende contribuir, en cierta medida, a comprender con mayor profundidad el consumo responsable, a través del desarrollo de una tipología fundamentada en la revisión de los distintos conceptos que engloba dicho término (ético, crítico, consciente y transformador,…) y tratando de relacionarlo con los fenómenos de la "nada" y el "algo" desarrollados por George Rizter y vinculados a la globalización. Así mismo, esta propuesta analítica se pretende aplicar con casos prácticos de consumo responsable observados en el área de la ciudad de A Coruña.
[Resumo] O traballo aquí proposto pretende contribuír, dalgunha forma, para unha comprensión máis profunda do consumo responsable a través do desenvolvemento dunha tipoloxía con base na análise dos distintos conceptos que o termo engloba (ético, crítico, consciente e transformador ... ) e tratar de relacionarse cos fenómenos da "nada" e "algo" por desenrolados por George Rizter e ligados á globalización. Ademais, esta proposta analítica pretendese aplicar con casos prácticos de consumo responsable observados na área da cidade de A Coruña.
[Abstract] The work proposed here aims to contribute, to some extent, to a deeper understanding of responsible consumption through the development of a typology based on the review of the different concepts that term encompasses (ethical, critical, conscious and transformer ... ) and trying to relate to the phenomena of "nothing" and "something" developed by George Rizter and linked to globalization. Furthermore, this proposal is intended to apply to analytical case studies of responsible consumption observed in the area of the city of A Coruña.
Keywords
Consumo solidario
Consumo consciente y transformador
Consumo ecológico
Globalización
Glocalización
Algo
Nada
Subcontinuos
Subtipos
Tipos ideales
Método comprensivo
Solidarity consumption
Conscious and transformer consumption
Green consumption
Globalization
Something
Anything
Subtypes
Ideal types
Comprehensive method
Rights
Os titulares dos dereitos de propiedade intelectual autorizan a visualización do contido deste traballo a través de Internet, así como a súa reproducción, gravación en soporte informático ou impresión para o seu uso privado e/ou con fins de estudo e de investigación. En nengún caso se permite o uso lucrativo deste documento. Estos dereitos afectan tanto ó resumo do traballo como o seu contido Los titulares de los derechos de propiedad intelectual autorizan la visualización del contenido de este trabajo a través de Internet, así como su repoducción, grabación en soporte informático o impresión para su uso privado o con fines de investigación. En ningún caso se permite el uso lucrativo de este documento. Estos derechos afectan tanto al resumen del trabajo como a su contenido