A arbitraxe nos Estados Unidos de América segundo o réxime da Federal Arbitration Act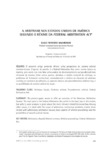 View/Open
Collections
Title
A arbitraxe nos Estados Unidos de América segundo o réxime da Federal Arbitration Act
Author(s)
Date
2011
Citation
Anuario da Facultade de Dereito da Universidade da Coruña, 2011, 15: 499-530. ISSN: 1138-039X
Abstract
[Resumo] O presente artigo pretende ofrecer unha perspectiva do sistema arbitral norteamericano. O punto de partida é a Federal Arbitration Act, como norma básica na materia, pero xunto con esta faise unha análise do desenvolvemento xurisprudencial máis relevante da mesma. Entre outros puntos, abórdase o ámbito material da arbitraxe, os problemas de formación contractual, nomeadamente o relativo ás cláusulas de arbitraxe contidas en contratos de adhesión, os aspectos básicos dos procedementos arbitrais tipo, e as posibilidades de revisión arbitral do laudo.
[Abstract] The present paper wants to offer an overview of the American Arbitration System. The start point is the Federal Arbitration Act, which is the basic law in this matter, but with it, some analysis is given about the more relevant related decisional law. Among other issues, it is dealt with the scope of arbitration, contractual problems, mainly those related with adhesionary arbitration clauses, basic aspects of arbitral proceedings and the possibilities of award's judicial review.
Keywords
Arbitraxe
Laudo
Contrato arbitral
Procedemento arbitral
Federal Arbitration Act
Arbitration
Award
Arbitral contract
Arbitral proceedings
ISSN
1138-039X
Related items
Showing items related by title, author, creator and subject.
Fernández Barreiro, A.

;

García, Julio G.

(

Universidade da Coruña

,

2011

)

[Resumen] La investigación trata del primer reconocimiento oficial del arbitraje por parte del derecho pretorio en el período romano-republicano y de la elaboración de su régimen jurídico por parte de la Jurisprudencia ...

García Pérez, Marta (1967-)

(

Universidade da Coruña

,

2012

)

[Resumen] En el presente trabajo se analiza la situación de la justicia contencioso-administrativa en España, a partir de los datos que ha publicado el Consejo General del Poder Judicial. Se propone la búsqueda de fórmulas ...

Cabeza Pereiro, Jaime

(

Universidade da Coruña

,

2011

)

[Resumo] A recente reforma legal do sistema español de negociación colectiva tivo como dous dos seus principais obxectivos, e entre outros, os de obter máis flexibilidade interna e superar os bloqueos que xorden durante ...