Speech acts and argumentation: a debate between a transnational company (Repsol) and activists on the website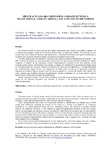 View/Open
Title
Speech acts and argumentation: a debate between a transnational company (Repsol) and activists on the website
Author(s)
Date
2012
Abstract
[Resumen]Este artículo es parte de un proyecto de investigación más amplio cuyo objetivo es el análisis cualitativo de la variedad de estrategias usadas en los discursos profesionales en donde hay conflicto. En particular, en este trabajo se aborda el análisis de discursos que muestran una confrontación ideológica entre grupos institucionales, un aspecto poco explorado hasta el momento en el análisis del discurso profesional. Los datos mencionados corresponden a las discusiones entre una empresa multinacional del petróleo y una ONG a raíz de las diferencias sobre la actuación de la primera en una zona de extracción habitada por pueblos indígenas. El análisis de las estrategias discursivo-argumentativas utilizadas revela una aparente actitud cooperativa entre ambos contendientes. Sin embargo, el análisis en profundidad de la principal estrategia usada por los participantes (la estrategia afiliativa) en relación con otros recursos discursivos, y su inter-textualidad con la información colgada en las webs corporativas de ambas partes, revela que el significado construido representa un conflicto (aún no resuelto) entre dos marcos cognitivos o visiones del mundo. Para explicar este hecho, creemos que el análisis discursivo-argumentativo necesita completarse con un nivel cognitivo que dé cuenta de estos niveles más complejos de significación. Desde la perspectiva teórico-metodológica, el análisis de este tipo de datos supone plantearse el tema de los límites de las diversas disciplinas que estudian el discurso y la necesidad de avanzar hacia la interdisciplinariedad
[Abstract] This paper is part of a broad research project for the qualitative analysis of the variety of strategies used in corporate discourses of conflict. It focuses in particular on data that reveal an ideological confrontation between the parties, a little-explored area within the field of business discourse analysis. These aforementioned data come from discussions between a multinational oil company and an NGO arising from differences regarding the actions of the former in a drilling zone inhabited by indigenous communities. In explicit pragmatic terms, the most outstanding point is the apparently cooperative attitude between the contenders. However, a more exhaustive pragmatic-argumentative analysis of the main strategy used by the participants (the affiliative strategy) in relation to other discursive resources, and its inter-textuality with the information posted on the parties' corporate websites, reveals that the constructed meaning represents an (unresolved) conflict between two cognitive frames or visions of the world. In order to explain this fact, we believe the discursive-argumentative analysis must be supplemented with a cognitive level to account for these more complex levels of meaning. From a theoretical and methodological point of view, analyzing this kind of data implies the need to address the question of the limits of the various discursive disciplines and to advance towards interdisciplinarity.
Keywords
Análisis del discurso profesional
Argumentación
Estrategias afiliativas
Conflicto de marcos
Business discourse analysis
Argumentation
Affiliative strategies
Conflict frames
Description
Publicado en portugués en Published in EID&A (Revista Electrônica de Estudos Integrados em Discurso e Argumentação), nº 3 (november), 2012.