El Colegio del cardenal de Monforte de Lemos. Evolución de la traza universal.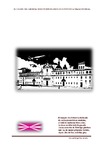 Collections
Title
El Colegio del cardenal de Monforte de Lemos. Evolución de la traza universal.
Author(s)
Directors
Soraluce Blond, José Ramón
Date
2010
Center/Dept./Entity
Universidade da Coruña. Departamento de Composicíón
Description
Traballo fin de mestrado (UDC.ETSA). Rehabilitación arquitectónica. Curso 2009/2010
Abstract
Se ha trabajado en un proceso de involución arquitectónica del complejo monumental iniciado a finales del Renacimiento y cuyas obras, por diversos motivos, continuaron hasta el siglo XX, presentando en la actualidad una imagen incompleta. El método seguido consistió en la investigación constructiva del edificio, el estudio de la planta y de los documentos conocidos sobre la obra. Se empezó con un estudio del estado actual, que se deconstruyó en busca de la traza original, para luego recomponerlo en un proceso inverso de atrás hacia delante, recreando la idea o traza universal con la que hipotéticamente debió ser inicialmente proyectado.
[Resumo]It has worked on a devolution process initiated monumental architectural complex in the late Renaissance and whose works, for various reasons, continued until the twentieth century, currently presenting an incomplete picture. The method followed in building constructive research, the study of the plant, known documents on the site. It began with a study of current status, which is deconstructed in search of the original plan, then put it back together in a reverse process of back and forth, recreating the idea or universal trace with which hypothetically should be initially projected.
Keywords
Colegio del cardenal de Monforte de Lemos
Estudio arquitectónico
Estudo arquitectónico
Architectural study
Colexio do cardenal de Monforte de Lemos
Rights
Os titulares dos dereitos de propiedade intelectual autorizan a visualización do contido deste traballo a través de Internet, así como a súa reproducción, gravación en soporte informático ou impresión para o seu uso privado e/ou con fins de estudo e de investigación. En nengún caso se permite o uso lucrativo deste documento. Estos dereitos afectan tanto ó resumo do traballo como o seu contido Los titulares de los derechos de propiedad intelectual autorizan la visualización del contenido de este trabajo a través de Internet, así como su repoducción, grabación en soporte informático o impresión para su uso privado o con fines de investigación. En ningún caso se permite el uso lucrativo de este documento. Estos derechos afectan tanto al resumen del trabajo como a su contenido
ISBN
9788497494915