Génesis de cavidades graníticas en ambientes endógenos y exógenos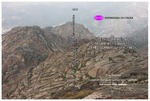 Title
Génesis de cavidades graníticas en ambientes endógenos y exógenos
Author(s)
Directors
Vidal Romaní, Juan Ramón
Date
2011
Center/Dept./Entity
Universidade da Coruña. Instituto Universitario de Xeoloxía
Abstract
[Resumen] El granito de O Pindo, Ézaro, NO de España, alberga un notable conjunto de formas, de las que son especialmente interesantes las cavidades del tipo gnamma (pía o pila) y tafone (cachola). En ciertos casos ambas formas están relacionadas formando parte de un mismo proceso, de naturaleza endógena y producido en la etapa magmática elástica, denominado "concentración de cargas" que origina recintos lacunares o zonas de la roca más debilitadas, que serán posteriormente explotadas por la meteorización en condiciones exógenas (fase magmática epigénica). Los tafoni indican con su presencia antiguas líneas de costa, constituyen microhábitats y dan lugar a paisajes característicos desde el punto de vista geomorfológico. Estas formas, junto con otras macro y microformas graníticas forman conjuntos singulares que bien merecen el apelativo de Monumentos Naturales.
[Resumo] O granito de O Pindo, Ézaro, NO de España, alberga un notable conxunto de formas, das que son especialmente interesantes as cavidades tipo pía (gnamma ou pila) e cachola o cacheira (tafone). En certos casos ámbalas dúas formas están relacionadas formando parte dun mesmo proceso, de natureza endóxena e producido na etapa magmática elástica, denominado "concentración de cargas" que orixina recintos lacunares ou de plastificación que son zoas onde a rocha, máis debilitada, será posteriormente explotada pola meteorización xa que logo en condicións esóxenas (fase magmática epixénica). As cacholas indican coa súa presenza antigas liñas de costa, constitúen microhábitats e dan lugar a paisaxes características dende o ponto de vista xeomorfolóxico. Estas formas xunto con outras macro e microformas graníticas forman conxuntos singulares que ben merecen o apelativo de Monumentos Naturais.
[Abstract] O Pindo granite, Ézaro, NW of Spain, includes a very interesting set of granitic forms. Tafoni and gnammas are fairy remarkable cavities among granitic microforms. Sometimes both forms are related under the same endogenetic process into the elastic stage of magmatic consolidation named "stress concentration process". This process generates lacunar areas, places where the rock is more weakened, that will be preferably exploited by the weathering, now under exogenetic conditions (epigenetic stage of magmatic evolution). The presence of tafoni indicate ancient see levels, form microhabitats and produce remarkable landscapes. These granitic forms form characteristic sets which must be considered as Natural Monuments.
Rights
Os titulares dos dereitos de propiedade intelectual autorizan a visualización do contido desta tese a través de Internet, así como a súa reproducción, gravación en soporte informático ou impresión para o seu uso privado e/ou con fins de estudo e de investigación. En nengún caso se permite o uso lucrativo deste documento. Estos dereitos afectan tanto ó resumo da tese como o seu contido Los titulares de los derechos de propiedad intelectual autorizan la visualización del contenido de esta tesis a través de Internet, así como su repoducción, grabación en soporte informático o impresión para su uso privado o con fines de investigación. En ningún caso se permite el uso lucrativo de este documento. Estos derechos afectan tanto al resumen de la tesis como a su contenido
ISBN
978-84-695-3771-8