Hacia dónde va el análisis del discurso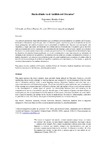 Title
Hacia dónde va el análisis del discurso
Author(s)
Date
2011-07
Citation
MORALES LÓPEZ, Esperanza. (2011). Hacia dónde va el Análisis del Discurso. Tonos digital, 21
Abstract
[Abstract] This paper presents the most common ideas currently being debated in Discourse Analysis, critically highlighting those which, although to varying degrees, are essential for the development of the two main lines of discursive analysis today: a more language-oriented Discourse Analysis, and other that has a more communicative and functional purpose. The points included for presentation are next: consideration of the message as a process inserted in different contexts, with participants whose social roles are relevant to the investigation of certain types of speech; the relationship between form and meaning in the communicative use as a non-arbitrary process; the relevance of the analysis of genres and their relation to social practices; the critical dimension in the analysis of discourses; discourse considered as social and/or socio-cognitive practice; the debate on the choice of methodology for analysis (ethnographic, qualitative or quantitative one); and, finally, the degree of interdisciplinarity in discursive analysis.
Keywords
Análisis del discurso
Análisis crítico del discurso
Análisis lingüístico del discurso
Análisis comunicativo del discurso
Interdisciplinariedad
Discourse analysis
Critical discourse analysis
Discourse analysis from a linguistic perspective
Discourse analysis from a communicative perspective
Interdisciplinarity
ISSN
1577-6921
Related items
Showing items related by title, author, creator and subject.
Agelvis Carrero, Valmore Antonio

(

2005

)

Mancera Rueda, Ana

;

Pano Alamán, Ana

(

Universidade da Coruña

,

2014

)

Abella Vázquez, Carlos Manuel

(

2006

)

[Resumen] En esta tesis se pretende examinar la forma en que la prensa española contribuye a la construcción y reproducción de una imagen acerca de la inmigración y el multiculturalismo. El estudio se ha centrado en el ...