Modelización geoquímica de los serrines de granito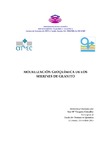 Title
Modelización geoquímica de los serrines de granito
Author(s)
Directors
Delgado Martín, Jordi
Fernández Fernández, Dolores Esther

Date
2005
Center/Dept./Entity
Universidade da Coruña. Departamento de Química Analítica
Abstract
[Resumen] La industria del granito constituye uno de los pilares de la economía gallega. El aumento en la producción de granito elaborado lleva aparejado el aumento en la producción de serrines. Por ello, alcanzar un equilibrio sostenible entre la actividad comercial del sector y la preservación del medio ambiente, de acuerdo con las normativas europeas, constituye actualmente un objetivo fundamental. Este estudio trata de responder a tres de las expectativas básicas que el sector granitero ha planteado: 1. La caracterización del material en vista a su catalogación como tipo de residuo (inerte o no). 2. El estudio de la viabilidad práctica de usos potenciales de los serrines. 3. Un análisis y la caracterización del material teniendo en cuenta sus eventuales usos. Esta tesis presenta los resultados obtenidos de la caracterización, centrándose en los aspectos de índole geoquímica así como en la evaluación de su comportamiento hidrodinámico. A tenor del volumen de serrines de granito anualmente generado en la comarca de O Porriño, es necesario buscar aplicaciones que requieran al mismo tiempo grandes volúmenes de material y pequeñas distancias de transporte. Esta investigación se ha centrado en la aplicación de los mismos como barrera de impermeabilización y/o sellado de vertedero.
[Abstract] Dimension stone industry is one of the leading economic potentials of Galicia Our study tries to answer at three of the basic expectations that the granite industry sector has outlined. These questions also possess a particular interest for the Administration: 1. The classification and characterization of the fines like a type of residuals and how this affects to their classification (inert / not inert) in a more specific way: 2. The identification of intrinsic properties of the fines so that, starting from them, allow obtaining of the fines some economic profit or, at least, a better integration in the productive cycle of the natural (dimension) stone. 3. The identification and study of viable applications from the technical and economic points of view that allow an evaluation of these wastes, transforming them in by-products of the process. According to the volume of granite fines annually generated in the district of O Porriño, it is necessary to look for applications that require large material volumes and short transport distances at the same time (sustainability approach). In that way, this investigation has been focused on the application of the same ones as barrier of waterproof and/or sealed landfills.
[Resumo] A industria do granito constitúe un dos pilares básicos da economía galega. O aumento na producción do granito elaborado conleva un aumento na producción dos serríns de granito. Por iso, alcanza-lo equilibrio sostenible entre a actividade comercial do sector e a preservación do medio ambiente, de acordo coas normativas europeas, constitúe actualmente un dos obxetivos fundamentais. Este estudio trata de responderen a tres das expectativas básicas que o sector graniteiro plantexou: 1. A caracterización do material en vista a súa catalogación como tipo de residuo (inerte ou non). 2. O estudo da viabilidade práctica dos usos potenciais dos serríns de granito. 3. Unha análise e a caracterización do material tendo en conta os seus eventuais usos. Esta tese presenta os resultados obtidos da caracterización, centrándose nos aspectos da índole xeoquímica así como na evaluación do seu comportamento hidrodinámico. A tenor do volumen dos serríns de granito anualmente xerado na comarca de O Porriño, é necesario a búsqueda de aplicacións que requiran ó mesmo tempo grandes cantidades de material e pequenas distancias de transporte. Esta investigación centrouse na aplicación dos mesmos como barrera de impermeabilización e/ou sellado de vertedeiros.
Keywords
Geoquímica
Serrín de granito
Barrera sellado
Barrera impermeabilización
Caracterización
Xeoquímica
Modelización
Vertedeiros
Barrera impermeabilización
Barrera sellado
Granite fine
Modelling
Geochemical
Characterization
Barrier of waterproof
Sealed andfills
Rights
Acceso aberto/Open Access
ISBN
978-84-692-8952-5