Situación actual del debate entre el feminismo radical "crítico del género" y el transfeminismo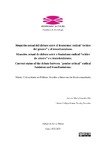 View/Open
Title
Situación actual del debate entre el feminismo radical "crítico del género" y el transfeminismo
Alternative Title(s)
Situación actual do debate entre o feminismo radical "crítico do xénero" e o transfeminismo
Current status of the debate between "gender critical" radical feminism and transfeminismo

Author(s)
Directors
Teasley, Cathryn
Date
2023
Center/Dept./Entity
Universidade da Coruña. Facultade de Socioloxía
Description
Traballo fin de mestrado (UDC.SOC). Políticas sociais e intervención sociocomunitaria. Curso 2022/2023
Abstract
[Resumen] Las identidades trans y la teoría queer han tenido una gran influencia, sobre todo en está última década, en las representaciones y formas de entender los conceptos sexo/género, así como en las prácticas políticas de los movimientos feministas, dando lugar a una serie de controversias dentro del propio movimiento. En este devenir de las conceptualizaciones y prácticas feministas se origina la encrucijada de los movimientos feministas radicales "críticos del género" y trans, que facilitan una perspectiva del estado actual del debate. En consecuencia, se ha realizado en primer lugar una revisión bibliográfica basada en la literatura de las corrientes feministas acerca del sistema sexo-género y, posteriormente, se presenta un estudio empírico mediante la realización de entrevistas a participantes de ambas posturas, con la finalidad de observar y analizar los posibles signos de violencia en los discursos, así como influencias y aprendizajes mutuos que pueden encaminar a una posible conciliación noviolenta.
[Resumo] As identidades trans e a teoría queer tiveron unha gran influencia, sobre todo nesta última década, nas representacións e formas de entender os conceptos sexo/xénero, así coma nas prácticas políticas dos movementos feministas, dando lugar a unha serie de controversias dentro do propio movemento. Neste devir das conceptualizacións e prácticas feministas orixínase a encrucillada dos movementos feministas radicais "críticos do xénero" e trans, que facilitan unha perspectiva do estado actual do debate. En consecuencia, realizouse en primeiro lugar unha revisión bibliográfica baseada na literatura das correntes feministas achega do sistema sexo-xénero e, posteriormente, preséntase un estudo empírico mediante a realización de entrevistas a participantes de ambas posturas, coa finalidade de observar e analizar as posibles sinais de violencia nos discursos, así como influencias e aprendizaxes mutuas que poden encamiñar a unha posible conciliación nonviolenta.
[Abstract] Trans identities and queer theory have had a great influence, especially in the last decade, on the representations and ways of understanding sex/gender concepts, as well as on the political practices of feminist movements, giving rise to a series of controversies within the movement itself. It is in this evolution of feminist conceptualisations and practices that the crossroads of the radical "gender-critical" and trans feminist movements originate, providing a perspective on the current state of the debate. Consequently, a literature review has firstly been carried out based on feminist currents regarding the sex-gender system, and, secondly, an empirical study is presented through interviews with participants from both positions, with the aim of observing and analysing possible signs of violence in discourses, as well as mutual influences and learning that can lead to a possible nonviolent conciliation.
Keywords
Feminismo
Identidades trans
Sexo
Género
Ley trans
Resolución noviolenta
Xénero
Lei trans
Resolución nonviolenta
Feminism
Trans identities
Sex
Gender
Trans law
Nonviolent resolution
Rights
Atribución-NoComercial 3.0 España