Más allá del cuidado: historias de vida de mujeres trabajadoras en el sector del empleo del hogar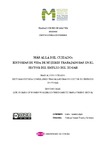 Except where otherwise noted, this item's license is described as Atribución-NoComercial-SinDerivadas 3.0 España
Title
Más allá del cuidado: historias de vida de mujeres trabajadoras en el sector del empleo del hogar
Alternative Title(s)
Máis aló do coidado: historias de vida de mulleres traballadoras no sector do emprego do fogar
Beyond care: life stories of women workers in the domestic employment sector

Author(s)
Directors
Teasley, Cathryn
Date
2023
Center/Dept./Entity
Universidade da Coruña. Facultade de Socioloxía
Description
Traballo fin de mestrado (UDC.SOC). Políticas sociais e intervención sociocomunitaria. Curso 2022/2023
Abstract
[Resumen] El empleo del hogar, entendido como la profesionalización del trabajo de cuidados, constituye un foco de investigación en los estudios de género. Sin embargo, existe una laguna de conocimiento sobre las implicaciones de la colonialidad para las mujeres trabajadoras. A través de la metodología cualitativa, mediante una revisión bibliográfica y un estudio empírico que ha tenido en cuenta el método biográfico-narrativo, se ha abordado el objetivo general de describir y analizar desde el marco interpretativo feminista y decolonial las trayectorias sociales y laborales de mujeres migrantes racializadas que trabajan en el sector del empleo del hogar en Galicia. Entre los resultados se destaca la existencia de una colonialidad del cuidado que se refleja en condiciones laborales precarias y el racismo en el contexto laboral. Se propone la implicación de toda la sociedad para poner en valor el trabajo de cuidados y garantizar las condiciones laborales adecuadas de las profesionales del sector.
[Resumo] O emprego do fogar, entendido como a profesionalización do traballo de coidados, constitúe un foco de investigación nos estudos de xénero. Con todo, existe unha lagoa de coñecemento sobre as implicacións da colonialidade para as mulleres traballadoras. A través da metodoloxía cualitativa, mediante unha revisión bibliográfica e un estudo empírico que tivo en conta o método biográfico-narrativo, abordouse o obxectivo xeral de describir e analizar desde o marco interpretativo feminista e decolonial as traxectorias sociais e laborais de mulleres migrantes racializadas que traballan no sector do emprego do fogar en Galicia. Entre os resultados destácase a existencia dunha colonialidade do coidado que se reflicte en condicións laborais precarias e o racismo no contexto laboral. Proponse a implicación de toda a sociedade para poñer en valor o traballo de coidados e garantir as condicións laborais axeitadas das profesionais do sector.
[Abstract] Domestic employment, understood as the professionalization of care work, is a focus of research in gender studies. However, there is a knowledge gap about the implications of coloniality for women working in this sector. Using qualitative methodology, through a bibliographic review and an empirical study that includes the biographical-narrative method, the general objective is to describe and analyze from a feminist and decolonial interpretive framework the social and labor trajectories of racialized migrant women who work in the household sector in Galicia. Among the results, there is evidence of a coloniality of care that is reflected in precarious working conditions and racism in the context of work. One of the proposals is the implication of the whole society to value care work and ensure adequate working conditions for professionals in the sector.
Keywords
Trabajo de cuidados
Migraciones
Decolonialidad
Feminismos
Traballo de coidados
Migracións
Decolonialidade
Care work
Migrations
Decoloniality
Feminisms
Rights
Atribución-NoComercial-SinDerivadas 3.0 España