Los principios de autosuficiencia y de proximidad en el traslado de residuos: análisis de la Sentencia del Tribunal de Justicia (Sala Octava) de 11 de noviembre de 2021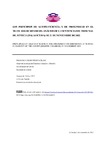 Except where otherwise noted, this item's license is described as Licencia "Creative Commons Reconocimiento-No Comercial" (CC-BY-NC)
Title
Los principios de autosuficiencia y de proximidad en el traslado de residuos: análisis de la Sentencia del Tribunal de Justicia (Sala Octava) de 11 de noviembre de 2021
Alternative Title(s)
Principles of Self-Sufficiency and Proximity n Shipments Of Waste: Judgment of The Court (Eighth Chamber) 11 November 2021
Author(s)
Date
2021-12-09
Citation
Martín Aláez, F. J. (2022). Los principios de autosuficiencia y de proximidad en el traslado de residuos: análisis de la Sentencia del Tribunal de Justicia (Sala Octava) de 11 de noviembre de 2021. https://doi.org/10.13140/RG.2.2.23703.24483/3
Referenced by
https://www.researchgate.net/publication/363579356_Los_Principios_de_autosuficiencia_y_de_proximidad_en_el_traslado_de_residuos_analisis_de_la_sentencia_del_Tribunal_de_Justicia_Sala_Octava_de_11_de_noviembre_de_2021?channel=doi&linkId=6346a78b2752e45ef6b0d6a8&showFulltext=true
Abstract
Este trabajo analiza la reciente Sentencia del Tribunal de Justicia de la Unión Europea de 11 de noviembre de 2021 y su impacto en la interpretación y alcance de los principios de autosuficiencia y proximidad en la gestión de residuos proclamados por el artículo 16 de la Directiva de 2008/98/CE, especialmente cuando entre en conflicto con las normas técnicas de clasificación de residuos. El estudio pretende aportar datos que permitan evaluar la utilidad de las políticas europeas sobre economía circular en el marco de la Agenda 2030 para el Desarrollo Sostenible y el cumplimiento de su objetivo 12: «Producción y Consumo Responsables», así como ofrecer soluciones a sus carencias.
This paper analyzes the recent Judgment of the European Court of Justice of 11 November 2021 and its impact regarding the interpretation and scope of the principles of self-sufficiency and proximity in waste management proclaimed by article 16 of Directive 2008/98/CE, especially when it conflicts with the technical regulations for waste classification. The study aims to provide data to assess the usefulness of European policies on circular economy within the framework of 2030 Agenda for Sustainable Development and the fulfillment of its goal 12: «Responsible Comsuption and Production», as well as offer solutions to their shortcomings.
Keywords
Economía circular, Objetivos de Desarrollo Sostenible, Traslado de residuos, Gestión de residuos, Catálogo europeo de residuos (CER), Principios de autosuficiencia y de proximidad.
Circular Economy, Sustainable Development Goals, Shipments of waste, Waste management, European Waste Catalogue (EWC), Principles of self-sufficiency and proximity.
Editor version
Rights
Licencia "Creative Commons Reconocimiento-No Comercial" (CC-BY-NC)