Análisis estadístico y modelos econométricos de elección discreta con correlación espacial en transporte y economía urbana: aplicación a los modelos de predicción de la localización residencial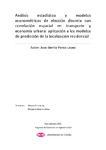 Except where otherwise noted, this item's license is described as Atribución-NoComercial-SinDerivadas 3.0 España
Title
Análisis estadístico y modelos econométricos de elección discreta con correlación espacial en transporte y economía urbana: aplicación a los modelos de predicción de la localización residencial
Author(s)
Directors
Orro, Alfonso
Novales, Margarita

Date
2022
Abstract
[Resumen] En esta tesis se propone un nuevo modelo de elección discreta entre alternativas de naturaleza geográfica, el modelo spatially correlated nested logit (SCNL). En este tipo de elecciones se prevé un elevado número de alternativas y la presencia de correlación, al menos espacial, entre ellas. La literatura actual en modelos de elección discreta considera dos enfoques para este tipo de elecciones, que son analizados en esta tesis. El modelo propuesto combina ambos enfoques sin añadir parámetros desconocidos, presenta una estructura matemática cerrada y es compatible con especificaciones mixtas que permitan variaciones en los gustos de quienes deciden. El modelo SCNL se formula y analiza en esta tesis, donde también se aplica a un caso real, para modelizar la elección de localización residencial en contexto urbano, que es un problema clave en planificación del transporte y economía urbana. Los resultados empíricos con el nuevo modelo mejoran significativamente los obtenidos con los modelos actuales. Además, se propone una métrica espacial para zonificaciones del espacio con diferentes tamaños y formas irregulares, muy habituales en áreas administrativas de ciudades europeas. Los modelos especificados con la métrica espacial propuesta obtuvieron resultados empíricos significativamente mejores que con el resto de métricas espaciales consideradas.
[Resumo] Nesta tese proponse un novo modelo de elección discreta entre alternativas de natureza xeográfica, o modelo spatially correlated nested logit (SCNL). Neste tipo de elección espérase un elevado número de alternativas e a presenza de correlación, polo menos espacial, entre elas. A literatura actual sobre modelos de elección discreta considera dous enfoques para este tipo de eleccións, que se analizan nesta tese. O modelo proposto combina ambos enfoques sen engadir parámetros descoñecidos, presenta unha estrutura matemática pechada e é compatible con especificacións mixtas que permiten variacións nos gustos de quen decide. O modelo SCNL formúlase e analízase nesta tese, onde tamén se aplica a un caso real, para modelizar a elección da localización residencial nun contexto urbano, que é un problema clave na planificación do transporte e na economía urbana. Os resultados empíricos co novo modelo melloran significativamente os obtidos cos modelos actuais. Ademais, proponse unha métrica espacial para zonificacións do espazo con diferentes tamaños e formas irregulares, moi común en áreas administrativas das cidades europeas. Os modelos especificados coa métrica espacial proposta obtiveron resultados empíricos significativamente mellores que co resto de métricas espaciais consideradas.
[Abstract] A new model of discrete choice between alternatives of a geographical nature is proposed in this thesis, the spatially correlated nested logit (SCNL) model. This type of choices are generally characterized by the existence of a high number of alternatives and the presence of correlation, at least spatial, between them. The current literature on discrete choice models considers two approaches for this type of choice, which are analyzed in this thesis. The proposed model combines both approaches without adding unknown parameters, it presents a closed mathematical structure and it is compatible with mixed specifications that allow variations in the tastes of those who decide. The SCNL model is formulated and analyzed in this thesis, where it is also applied to a real case, to model the choice of residential location in an urban context, which is a key problem in transport planning and urban economics. The empirical results with the new model significantly improve those obtained with the current models. In addition, a spatial metric for spatial zoning with different sizes and irregular shapes is proposed, very common in administrative areas of European cities. The models specified with the proposed spatial metric obtained empirical results that were significantly better than those obtained with the rest of the spatial metrics considered.
Keywords
Urbanismo-Modelos matemáticos
Description
Programa Oficial de Doutoramento en Enxeñaría Civil. 5011V01
Rights
Atribución-NoComercial-SinDerivadas 3.0 España