Digital educational resources in early childhood Education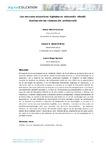 Except where otherwise noted, this item's license is described as Atribución-NoComercial-SinDerivadas 3.0 España
Title
Digital educational resources in early childhood Education
Alternative Title(s)
Los recursos educativos digitales en educación infantil. Analizando las visiones del profesorado
Date
2022
Citation
Marín-Suelves, D., Becerra-Brito, C. V., & Rego-Agraso, L. (2022). Los recursos educativos digitales en educación infantil. Analizando las visiones del profesorado. Digital Education Review, (41).
Abstract
[Resumen] El impacto de las tecnologías en la población infantil de 3 a 6 años es evidente tanto en el contexto familiar como el educativo, donde los docentes asumen un rol fundamental en la selección, uso y creación de recursos didácticos digitales. El objetivo de este trabajo consiste en analizar las visiones del profesorado sobre los usos didácticos y organizativos de la tecnología en general y de los Recursos Educativos Digitales en particular, y la valoración tras su introducción y puesta en práctica en la etapa de Educación Infantil. En este estudio de corte cualitativo se empleó como instrumento de recogida de la información una entrevista semiestructurada a un total de 15 docentes que desempeñan su labor en el segundo ciclo de Educación Infantil en la Comunidad de Valencia, Canarias y Galicia. Los resultados muestran desacuerdos y acuerdos entre el profesorado, independientemente de la Comunidad, en cuanto a las diferencias percibidas en el uso de tecnologías por los más pequeños en los dos contextos de socialización primaria, escuela y hogar; la identificación de los factores que limitan o impulsan la integración de las tecnologías en el aula y la valoración de los recursos educativos digitales como elemento motivador en el proceso de enseñanza/aprendizaje, pero que conviven con recursos manipulativos en entornos híbridos. En definitiva, el proceso de transformación digital de las escuelas parece ir por detrás de la realidad social y depende en gran medida de las características de cada centro, así como de la formación y las actitudes de los docentes frente al uso de tecnologías en la primera infancia.
[Abstract] The impact of technology on children aged 3 to 6 is evident in both the family and educational contexts, where teachers play a fundamental role in the selection, use and creation of digital resources and teaching materials. This study aims to analyse teachers' views on the didactic and organisational uses of technology in general and Digital Educational Resources in particular, their training and assessment after their introduction and implementation in the Early Childhood Education stage. In this qualitative study, a semi-structured interview was used to collect information from 15 teachers who work in the Second Cycle of Infant Education in the Community of Valencia, the Canary Islands and Galicia. The results show agreement among the teachers, regardless of the Community, regarding the differences perceived in the use of technology by the youngest children in the two primary socialisation contexts, school and home; the identification of the factors that limit or promote the integration of technologies in the classroom and the assessment of digital educational resources as a motivating element in the teaching/learning process, but which coexist with manipulative resources in hybrid environments. In short, the digital transformation process of schools seems to lag behind social reality and depends mainly on teacher training and attitudes.
Keywords
Infantil
Recurso
Digitalización
Profesorado
Visiones
Editor version
Rights
Atribución-NoComercial-SinDerivadas 3.0 España