Condiciones laborales de las cuidadoras migrantes: servicios privados de atención en el domicilio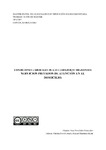 Except where otherwise noted, this item's license is described as Atribución-NoComercial-SinDerivadas 3.0 España
Title
Condiciones laborales de las cuidadoras migrantes: servicios privados de atención en el domicilio
Alternative Title(s)
Condicións laborais das coidadoras migrantes: servizos privados de atención no domicilio
Working conditions of migrant women caregivers: private home care services

Author(s)
Directors
Moré, Paloma
Martínez-Buján, Raquel

Date
2022
Center/Dept./Entity
Universidade da Coruña. Facultade de Socioloxía
Description
Traballo fin de mestrado (UDC.SOC). Políticas sociais e intervención sociocomunitaria. Curso 2021/2022
Abstract
[Resumen] En el presente trabajo se presentan los resultados de una investigación de campo cuyo objetivo es analizar las condiciones laborales de las trabajadoras migrantes del sector de los cuidados en los domicilios privados. La investigación se ha centrado en la experiencia concreta de las trabajadoras que desempeñan su labor en la ciudad de A Coruña. A través de una metodología cualitativa, que combina un análisis documental con la realización de entrevistas semiestructuradas a las propias trabajadoras, es posible visualizar las carencias de un modelo de bienestar que se sostiene gracias a la situación de precariedad, vulnerabilidad y desprotección de este colectivo. Los retos futuros para con estas mujeres pasan fundamentalmente por equiparar sus condiciones laborales a las del resto de ocupaciones y dignificar su labor, especialmente en un momento histórico donde las necesidades de cuidados seguirán aumentando de forma significativa. Todo ello, además de entenderse como una cuestión de sostenibilidad, debe concebirse como un acto de justicia social.
[Resumo] No presente traballo preséntanse os resultados dunha investigación de campo cuxo obxectivo é analizar as condicións laborais das traballadoras migrantes do sector dos coidados nos domicilios privados. A investigación centrouse na experiencia concreta das traballadoras que desempeñan a súa labor na cidade da Coruña. A través dunha metodoloxía cualitativa, que combina unha análise documental coa realización de entrevistas semiestruturadas ás propias traballadoras, é posible visualizar as carencias dun modelo de benestar que se sustenta grazas á situación de precariedade, vulnerabilidade e desprotección deste colectivo. Os retos futuros para con estas mulleres pasan fundamentalmente por equiparar as súas condicións laborais coas do resto de ocupacións e dignificar a súa labor, especialmente nun momento histórico onde as necesidades de coidados seguirán aumentando de maneira significativa. Todo iso, ademais de entenderse como unha cuestión de sustentabilidade, debe concebirse como un acto de xustiza social.
[Abstract] This paper presents the results of a field research aimed at analyzing the working conditions of migrant women workers in the care sector in private homes. The research has focused on the specific experience of female workers who work in the city of A Coruña. With a qualitative methodology, which combines documentary analysis with semi-structured interviews with the workers themselves, it is possible to visualize the shortcomings of a welfare model that is sustained by the precariousness, vulnerability and lack of protection of this group. The future challenges for this women include aligning their working conditions with those of other occupations as well as the continuing fight to dignify their work, especially at a time in history when the need for care will continue to increase significantly. This issue, next to addressing sustainability, would equally serve as an act of social justice.
Keywords
Cuidados
Migrantes
Mujeres
Condiciones laborales
Desigualdad
Coidados
Mulleres
Condicións laborais
Desigualdade
Care
Migrants
Women
Working conditions
Inequality
Rights
Atribución-NoComercial-SinDerivadas 3.0 España