Dentro do abolicionismo: o histórico movemento contra a prostitución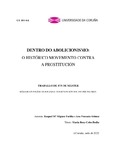 Except where otherwise noted, this item's license is described as Atribución-CompartirIgual 3.0 España
Title
Dentro do abolicionismo: o histórico movemento contra a prostitución
Author(s)
Directors
Cobo Bedía, Rosa
Date
2022
Center/Dept./Entity
Universidade da Coruña. Facultade de Socioloxía
Description
Traballo fin de mestrado (UDC.SOC). Políticas sociais e intervención sociocomunitaria. Curso 2021/2022
Abstract
[Resumo] Ao longo deste traballo realizaremos unha investigación en profundidade do movemento abolicionista da prostitución, o cal, inserido no seo do feminismo, loita pola erradicación total da institución prostitucional por medio da denuncia e deslexitimación da que considera a expresión máis violenta do patriarcado. No intento por reafirmar a teoría crítica que implicita e explicita dito movemento e, con elo, subverter os vellos códigos de dominación que, aínda na actualidade, seguen a negar a liberdade e a igualdade real a máis da metade da humanidade, nas vindeiras páxinas afondaremos na súa historia e vindicacións, a través da exposición, tamén, da xenealoxía do movemento que o viu nacer e avanzar, o feminismo. O repaso histórico do abolicionismo e da súa loita contra a prostitución dará paso ao núcleo gordiano do traballo, a recompilación de información sobre a súa situación actual tanto a nivel estatal como global, por medio de dúas entrevistas en profundidade a dúas referentes do movemento en España e Arxentina. Unha análise cualitativa dos seus discursos permitiranos dar conta do pensamento e acción de ambas, o que, en suma con todo o anterior, favorecerá a irracionalización dos axiomas que perpetúan a prostitución e, por ende, a desigualdade cara a tódalas mulleres.
[Resumen] A lo largo de este trabajo realizaremos una investigación en profundidad del movimiento abolicionista de la prostitución, el cual, inserto en el seno del feminismo, lucha por la erradicación total de la institución prostitucional por medio de la denuncia y deslegitimación de la que considera la expresión más violenta del patriarcado. En el intento por reafirmar la teoría crítica que implicita y explicita dicho movimiento y, con ello, subvertir los viejos códigos de dominación que, aún en la actualidad, siguen negando la libertad y la igualdad real a más de la mitad de la humanidad, en las próximas páginas ahondaremos en su historia y vindicaciones, a través de la exposición, también, de la genealogía del movimiento que lo vio nacer y avanzar, el feminismo. El repaso histórico del abolicionismo y de su lucha contra la prostitución dará paso al núcleo gordiano del trabajo, la recopilación de información sobre su situación actual tanto a nivel estatal como global, por medio de dos entrevistas en profundidad a dos referentes del movimiento en España y Argentina. Un análisis cualitativo de sus discursos nos permitirá dar cuenta del pensamiento y acción de ambas, lo que, en suma con todo el anterior, favorecerá la irracionalización de los axiomas que perpetúan la prostitución y, por ende, la desigualdad hacia todas las mujeres.
[Abstract] Throughout this work we will carry out an in-depth investigation of the abolitionist movement of prostitution, which, inserted within feminism, fights for the total eradication of the prostitution institution through the denunciation and delegitimization of what it considers to be the most violent expression of patriarchy. In the attempt to reaffirm the critical theory that implicitly and explicitly explains this movement and, thereby, subvert the old codes of domination that, even today, continue to deny freedom and real equality to more than half of humanity, in the following pages will delve into its history and vindications, through the exhibition, also, of the genealogy of the movement that saw it born and advance, feminism. The historical review of abolitionism and its fight against prostitution will give way to the Gordian core of the work, the compilation of information on its current situation both at a state and global level, through two in-depth interviews with two referents of the movement in Spain and Argentina. A qualitative analysis of their speeches will allow us to account for the thought and action of both, which, in sum with all of the above, will favor the irrationalization of the axioms that perpetuate prostitution and, therefore, inequality towards all women.
Keywords
Abolicionismo
Feminismo
Prostitución
Igualdade
Mulleres
Igualdad
Mujeres
Abolitionism
Feminism
Prostitution
Equality
Women
Rights
Atribución-CompartirIgual 3.0 España