Sindicalismo y mercado laboral: cómo afecta la precariedad laboral en la sindicalización en España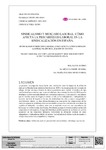 View/Open
Title
Sindicalismo y mercado laboral: cómo afecta la precariedad laboral en la sindicalización en España
Alternative Title(s)
Sindicalismo e mercado laboral: como afecta a precariedade laboral na sindicalización en España
Trade unionism and the labour market: how job insecurity affects unionization in Spain

Author(s)
Directors
Ferrin, Monica
Moré, Paloma

Date
2022
Center/Dept./Entity
Universidade da Coruña. Facultade de Socioloxía
Description
Traballo fin de grao (UDC.SOC). Socioloxía. Curso 2021/2022
Abstract
[Resumen] La presente investigación busca hallar una correlación entre la bajada de la afiliación sindical en España hasta mínimos históricos en 2020 y la precarización del mercado de trabajo. Se han utilizado fuentes de datos secundarias para realizar el análisis de tipo correlacional que concluye que la precariedad que trajo consigo la crisis de 2008, que ha devaluado nuestro mercado laboral con contratos temporales, a tipo parcial y con salarios que en muchos casos no llegan a costear la vida de los trabajadores y trabajadoras, ha supuesto también la bajada de la tasa de sindicalización. Así, a mayor inseguridad e incertidumbre laboral, la clase obrera disminuye su asociación. La temporalidad de los contratos supone un problema clave en este ámbito, ya que los contratos de poca duración impiden al trabajador vincularse tanto con la empresa, como con sus compañeros, de forma que no valora la idea de afiliarse. Por último, aunque el presente trabajo no ha sido congruente en este aspecto, el auge del teletrabajo podría suponer en un futuro un cambio sustancial en las relaciones laborales, reduciendo la afiliación sindical de estos trabajadores y trabajadoras debido al carácter individualista de dicho modo de empleo y la baja vinculación con compañeros y empresa.
[Resumo] A presente investigación busca achar unha correlación entre a baixada da afiliación sindical en España ata mínimos históricos en 2020 e a precarización do mercado de traballo. Utilizáronse fontes de datos secundarias para realizar a análise de tipo correlacional que conclúe que a precariedade que trouxo consigo a crise de 2008, que devaluou o noso mercado laboral con contratos temporais, a tipo parcial e con salarios que en moitos casos non chegan a custear a vida dos traballadores e traballadoras, supuxo tamén a baixada da taxa de sindicalización. Así, a maior inseguridade e incerteza laboral, a clase obreira diminúe a súa asociación. A temporalidade dos contratos supón un problema clave neste ámbito, xa que os contratos de pouca duración impiden ao traballador vincularse tanto coa empresa, como cos seus compañeiros, de forma que non valora a idea de afiliarse. Por último, aínda que o presente traballo non foi congruente neste aspecto, o auxe do teletraballo podería supoñer nun futuro un cambio substancial nas relacións laborais, reducindo a afiliación sindical destes traballadores e traballadoras debido ao carácter individualista do devandito modo de emprego e a baixa vinculación con compañeiros e empresa.
[Abstract] The present research seeks to find a correlation between the fall of union membership in Spain to historic lows in 2020 and the precariousness of the labour market. Secondary data sources have been used to carry out the correlational analysis that concludes that the precariousness brought about by the crisis of 2008, which has devalued our labor market with temporary contracts, at partial rates and with wages that in many cases do not cover the lives of workers, it has also led to a fall in the rate of unionization. This way, the greater job insecurity and uncertainty, the working class diminishes its association. The temporality of contracts is a key problem in this area, since short-term contracts prevent the worker from linking up with both the company and his colleagues, so he does not value the idea of joining. Finally, although the present work has not been consistent in this respect, the boom in telework could mean a substantial change in industrial relations in the future, reducing the union membership of these workers due to the individualistic nature of this mode of employment and the low link with colleagues and company.
Keywords
Afiliación sindical
Precariedad
Temporalidad
Teletrabajo
Asociación
Precariedade
Temporalidade
Teletraballo
Union affiliation
Precariousness
Temporality
Telework
Association
Rights
Os titulares dos dereitos de propiedade intelectual autorizan a visualización do contido deste traballo a través de Internet, así como a súa reproducción, gravación en soporte informático ou impresión para o seu uso privado e/ou con fins de estudo e de investigación. En nengún caso se permite o uso lucrativo deste documento. Estos dereitos afectan tanto ó resumo do traballo como o seu contido Los titulares de los derechos de propiedad intelectual autorizan la visualización del contenido de este trabajo a través de Internet, así como su repoducción, grabación en soporte informático o impresión para su uso privado o con fines de investigación. En ningún caso se permite el uso lucrativo de este documento. Estos derechos afectan tanto al resumen del trabajo como a su contenido