Operaciones portuarias de petróleo crudo: Una revisión bibliográfica sobre simulación e investigación operativa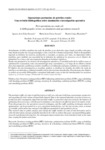 Coleccións
Título
Operaciones portuarias de petróleo crudo: Una revisión bibliográfica sobre simulación e investigación operativa
Data
2021
Cita bibliográfica
DE LA PENA ZARZUELO, Ignacio; FREIRE SEOANE, María Jesús y LOPEZ BERMUDEZ, Beatriz. Port operations on crude oil: A bibliographic review on simulation and operations research. Ingeniare. Rev. chil. ing. [online]. 2021, vol.29, n.3, pp.406-419. ISSN 0718-3305. http://dx.doi.org/10.4067/S0718-33052021000300406.
Resumo
[Resumen] Actualmente, el tráfico marítimo de crudo de petróleo y sus derivados sigue siendo un tráfico relevante, tanto desde un punto de vista geoestratégico como a nivel de volumen transportado. Dado el desequilibrio regional en términos de reservas, producción y consumo, se genera, por tanto, un importante tráfico marítimo, pero también una necesidad de la industria de optimizar los procesos con el objetivo de minimizar los costes y dar una respuesta eficiente en términos logísticos. Desde esta perspectiva, las técnicas de investigación operativa y la modelización de los tráficos para su optimización se presentan como una metodología muy conveniente y, a lo largo de los últimos setenta años, han empezado a publicarse estudios científicos con diferentes enfoques cualitativos y cuantitativos. El objetivo de esta investigación es recopilar, analizar y clasificar los modelos de tráfico de crudo de petróleo y sus derivados y ordenar la temática de las innovaciones introducidas. Para alcanzar este objetivo se realiza un recorrido bibliográfico conceptual indicando como se han ido introduciendo las sucesivas mejoras y, al mismo tiempo, eliminando las restricciones iniciales.[Abstract] The maritime traffic of crude oil and derivatives is still very relevant, both from a geostrategic perspective and regarding the total volume of liquid bulk shipped. Due to the regional imbalance in terms of reserves, production and consumption, important maritime traffic is generated, and a necessity for the industry of optimizing these processes, with the goal to minimize costs and give an efficient answer in logistic terms. From this perspective, the operation research techniques, and the traffic modeling techniques aimed at optimization, can be presented as a very convenient methodology over the last seventy years, a stream of scientific publications has emerged with different quantitative and qualitative focus. This research aims to gather, analyze and classify the traffic models of crude oil and derivatives and to order the innovation concepts gradually introduced. In order to achieve this goal, conceptual bibliographic research is performed showing how the subsequent improvements have been introduced and, at the same time, erasing the initial restrictions
Palabras chave
Inventory & scheduling combined problem (PISCP)
Lightering optimization problem (LOP)
Cargo scheduling with blending problem (CSBP)
Pricing
Inventory routing problem (IRP)
Routing and scheduling problem (RSP).
Versión do editor
Dereitos
Atribución 3.0 España
ISSN
0718-3305
Ítems relacionados
Mostrando ítems relacionados por Título, autor ou materia.
Petit, Caroline

(

Universidade da Coruña

,

2007

)

Siefkes, Martin

(

Universidade da Coruña

,

2012

)

[Abstract] Style is one of the few terms of cultural analysis which can be fruitfully used in completely different cultural areas: Style theories have been developed for texts (most often literary texts), for art, architecture, ...

Jaoua, Mohamed

(

Universidade da Coruña

,

2010

)