Mechanical Behaviour of Cold In-Place Recycled Asphalt Mixtures with Bitumen Emulsion: Effect of Curing Time on the Response of Rehabilitated Pavement Sections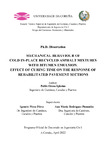 View/Open

Except where otherwise noted, this item's license is described as Atribución-NoComercial-SinDerivadas 3.0 España
Title
Mechanical Behaviour of Cold In-Place Recycled Asphalt Mixtures with Bitumen Emulsion: Effect of Curing Time on the Response of Rehabilitated Pavement Sections
Author(s)
Directors
Pérez Pérez, Ignacio
Pasandín, A.R.

Date
2022
Abstract
[Abstract] The constant increase in the price of asphalt after the petroleum crisis along with the scarcity of natural resources, such as virgin aggregates, has led to a strong interest in developing more efficient paving techniques, like pavement recycling. In addition, the current rising socio-political concern for a paradigm shift in the growth and development model towards more sustainable, circular, and green alternatives has also encouraged the promotion of low-temperature technologies that considerably reduce greenhouse gas emissions compared to traditional techniques. Cold in-place recycling (CIR) with bituminous emulsion is one of the main trends in the pavement industry as a promising alternative to conventional rehabilitation methods. CIR allows the reuse of the milled material from worn-out roads, known as Reclaimed Asphalt Pavement (RAP), in new asphalt mixtures, performing the entire process at ambient temperature. Thus, CIR is a more sustainable procedure in line with the circular economy, characterised by its efficiency in the use of materials and energy by reducing waste generation and greenhouse gas emissions. However, CIR is still a fairly new technique, and an internationally accepted design and characterization method for these mixtures is yet to be developed. Some of the reasons behind this range from the heterogeneity of the RAP to the particular behaviour of cold recycled mixtures (CRMs) and the weakness they present in the first days after execution, requiring a curing time to develop their mechanical strength. In this doctoral thesis, the behaviour of CRMs prepared with 100% RAP and bitumen emulsion was investigated. The studied CRMs simulated those produced during a CIR, referred to as CIR mixtures, or CIRMs. First, the compactability and mechanical characterization were analysed using procedures usually included in design methods, with special attention to the method currently in force in Spain. The strength requirements of this design method were found to be excessive and unrealistic for CRMs, and a revision is recommended. In addition, the influence of different compaction methods and RAP properties was analysed. The viscoelastic nature of CRMs and the high influence of the air voids content on the mechanical response were verified. Then, an extensive study using triaxial tests was carried out to analyse the stressdependent behaviour of CRMs. The stiffness development during the curing period was investigated using dynamic triaxial tests, obtaining the resilient moduli both in the short and long term. Monotonic triaxial tests provided the shear parameters (cohesion and – vi – internal friction angle), and the response to long-term permanent deformation was assessed using repeated load triaxial tests. CIRMs prepared with 2.50% residual binder and 2.75% added water showed the best short-term stiffness evolution and best response to permanent deformation. However, in the long term, CIRMs with higher binder content showed a better stiffness evolution. Finally, the stress-dependent behaviour of the studied CIRM was fitted using numerical predictive models, which were implemented in a numerical simulation software that allowed to predict the response of rehabilitated pavement sections with CIRMs as base-course. Numerical simulations showed that after 7 days of curing, the CIRM develops sufficient stiffness to be representative of its long-term stiffness, thus it is considered a suitable time to place the wearing course. The response of the rehabilitated sections with CIRM base was particularly adequate considering the presence of a semirigid subbase. However, in the presence of a flexible subbase, the stress state of the CIRM was much higher, predicting earlier permanent deformations.
[Resumen] Dentro del sector de la carretera, el constante incremento del precio del asfalto tras la crisis del petróleo y la escasez de recursos naturales como áridos, ha llevado a que en los últimos años existiese un interés por el desarrollo de técnicas de pavimentación más eficientes, como las técnicas de reciclado de pavimentos. Por otro lado, el aumento actual en la preocupación sociopolítica por un cambio de paradigma en los modelos de crecimiento y desarrollo hacia alternativas más sostenibles y circulares, respetuosas con el medio ambiente, ha fomentado el impulso de tecnologías a baja temperatura, asociadas con reducciones considerables de las emisiones de gases de efecto invernadero. Una de las técnicas más prometedoras es el reciclado en frío in-situ con emulsión bituminosa (o cold in-place recycling—CIR) debido a sus ventajas de eficiencia en el uso de materiales y energía, reducción de emisiones y generación de residuos, y, en general, por su sostenibilidad y consonancia con la economía circular, permitiendo la reutilización del material fresado de carreteras desgastadas (conocido como Reclaimed Asphalt Pavement—RAP) en nuevas mezclas asfálticas, realizando la totalidad del proceso a temperatura ambiente. El CIR es una técnica bastante nueva, y todavía no se han llegado a desarrollar un método de diseño ni de caracterización para las mezclas recicladas en frío (o cold recycled mixtures—CRMs) que estén internacionalmente aceptados. Eso se debe, entre otros factores, a la heterogeneidad del RAP y al comportamiento particularmente complejo que presentan las CRMs, las cuales necesitan un cierto tiempo de curado para desarrollar sus resistencias mecánicas. En esta tesis doctoral se ha estudiado el comportamiento de CRMs preparadas con 100% de RAP y emulsión bituminosa. Las mezclas estudiadas trataron de simular las producidas durante un CIR, a las que se hará referencia como mezclas CIR, o CIRMs. En primer lugar, se analizaron la compactabilidad y las resistencias empleando procedimientos habitualmente contemplados en los métodos de diseño, con especial atención en el método actualmente vigente en España. Se pudo comprobar que los requerimientos resistentes de dicho método de diseño eran excesivamente elevados y poco realistas para CRMs, y se recomendó su revisión. Se analizó la influencia de las características del RAP en las propiedades volumétricas y mecánicas, comprobando el comportamiento viscoelástico de las CRMs y la elevada influencia del volumen de huecos en su respuesta mecánica. – viii – El comportamiento dependiente de la tensión que presentan las CRMs preparadas con emulsión bituminosa motivó la realización de un extenso estudio mediante ensayos triaxiales, los cuales permitieron verificar y analizar dicho comportamiento. Se investigó el desarrollo de la rigidez durante el período de curado, tanto a corto como a largo plazo, mediante ensayos triaxiales dinámicos de módulo resiliente. Ensayos triaxiales monotónicos permitieron, además, conocer los parámetros a cortante y las tensiones de fallo ante distintos estados de confinamiento; con las que, posteriormente, empleando ensayos triaxiales de carga repetida, se estudió la respuesta a la deformación permanente a largo plazo de CIRMs curadas. Las CIRMs preparadas con 2.50% de ligante residual y 2.75% de agua añadida mostraron la mejor evolución de rigidez a corto plazo, y mejor respuesta a la deformación permanente. Sin embargo, a largo plazo, la evolución de la rigidez fue mejor en las CIRMs con mayor contenido de ligante residual. Finalmente, se ajustó este comportamiento dependiente de la tensión empleando modelos predictivos, los cuales fueron implementados en un software de simulación numérica que permitió predecir la respuesta de secciones de pavimento rehabilitadas con capa de base de CIRM. Las simulaciones mostraron que tras 7 días de curado la base de CIRM logra desarrollar una rigidez representativa de su rigidez a largo plazo, y se considera un momento adecuado para ejecutar la capa de rodadura superficial. El comportamiento de la base de CIRM es adecuado y estable con subbase semirrígida, mientras que presenta tensiones mucho más elevadas en presencia de subbase flexible. Como consecuencia, en el escenario con subbase flexible cabe esperar aparición de deformaciones permanentes más temprana
[Resumo] Dentro do sector das estradas, o constante incremento no prezo do asfalto despois da crise do petróleo e a escaseza de recursos naturais como áridos, levou a que nos últimos anos xurdise un interese polo desenvolvemento de técnicas de pavimentación máis eficientes, como as técnicas de reciclaxe de pavimentos. Doutra banda, o aumento actual na preocupación socio-política por un cambio de paradigma nos modelos de crecemento e desenvolvemento cara a alternativas máis sostibles e circulares, respectuosas co medio ambiente, fomentou tamén o impulso de tecnoloxías a baixa temperatura, as cales implican unha redución importante nas emisións de gases de efecto invernadoiro. Unha das técnicas máis prometedoras é a reciclaxe en frío in-situ con emulsión bituminosa (CIR), debido ás súas vantaxes na eficiencia no uso de materiais e enerxía, redución de emisións e xeración de residuos, e, en xeral, pola súa sustentabilidade e consonancia coa economía circular, xa que permite a reutilización do material fresado das estradas desgastadas (coñecido como Reclaimed Asphalt Pavement—RAP) en novas mesturas, podendo efectuarse todo o procedemento a temperatura ambiente. Sen embargo, o CIR é unha técnica bastante nova, e aínda non se chegou a desenvolver un método de deseño nin de caracterización para este tipo de mesturas internacionalmente aceptados. Os motivos van dende a elevada heteroxeneidade do RAP ata o comportamento particularmente complexo das mesturas recicladas en frío (CRMs), as cales precisan dun certo tempo de curado para adquirir suficientes resistencias mecánicas. Nesta tese doutoral caracterizáronse e estudouse o comportamento mecánico de CRMs preparadas con 100% de RAP e emulsión bituminosa. As mesturas estudadas trataron de simular ás producidas durante un CIR, ás que fará referencia como mesturas CIR, ou CIRMs. En primeiro lugar, analizáronse a compactabilidade e a caracterización mecánica habitualmente incluída nos métodos de deseño, facendo especial fincapé no actual método vixente en España. Púidose ver que os requisitos de resistencia deste método eran excesivamente altos e pouco realistas para CRMs, e recomendouse a súa revisión. Analizouse a influencia das características do RAP en propiedades volumétricas e mecánicas, verificando ademais o comportamento viscoelástico e a maior influencia do volume de ocos de aire na resposta mecánica. Doutra banda, o comportamento dependente da tensión das CRMs motivou a realización dun extenso estudo mediante ensaios triaxiais, que permitiu verificar e analizar dito comportamento. A evolución da rixidez durante o período de curado – x – investigouse mediante ensaios triaxiais dinámicos, obtendo os módulos resilientes tanto a curto como a longo prazo. Ensaios triaxiais monotónicos permitiron coñecer os parámetros de cortante e os esforzos de rotura ante diferentes estados de confinamento; cos que, posteriormente, mediante ensaios triaxiais de carga repetida, estudouse a resposta á deformación permanente de CIRMs curados, a longo prazo. As CIRMs preparados cun 2.50% de ligante residual e un 2.75% de auga engadida mostraron a mellor evolución da rixidez a curto prazo e a mellor resposta á deformación permanente. Non obstante, a longo prazo, a evolución da rixidez foi mellor nas CIRMs con maior contido de ligante residual. Finalmente, este comportamento dependente da tensión axustouse mediante modelos preditivos, que foron incorporados nun software de simulación numérica que permitiu prever a resposta de seccións de pavimento rehabilitadas con CIRM como capa de base. As simulacións mostraron que despois de 7 días de curado, a base de CIRM consegue alcanzar unha rixidez representativa da súa rixidez a longo prazo, e considérase un tempo adecuado para executar a capa de rodadura superficial. O comportamento da base CIRM mostrouse adecuado cunha subbase semirríxida, mentres que presentou esforzos moito máis elevados en presenza dunha subbase flexible. Como consecuencia, no escenario con subbase flexible, agárdase que as deformacións permanentes excesivas ocorran máis cedo.
Keywords
Carreteras-Materiales-Reciclaje
Pavimentos-Materiales-Reciclaje
Materiales bituminosos-Propiedades
Description
Programa Oficial de Doutoramento en Enxeñaría Civil . 5011V01
Rights
Atribución-NoComercial-SinDerivadas 3.0 España