Reconnecting Pornography, Prostitution, and Trafficking: The Experience of Being in Porn Was Like Being Destroyed, Run Over, Again and Again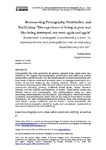 Ver/Abrir

Excepto si se señala otra cosa, la licencia del ítem se describe como Atribución-NoComercial-CompartirIgual 4.0 Internacional (CC BY-NC-SA 4.0)
Colecciones
Título
Reconnecting Pornography, Prostitution, and Trafficking: The Experience of Being in Porn Was Like Being Destroyed, Run Over, Again and Again
Título(s) alternativo(s)
Reconectando la pornografía, la prostitución y la trata: La experiencia de estar en la pornografía fue como ser destruida y atropellada una y otra vez
Autor(es)
Fecha
2021-12-31
Cita bibliográfica
Farley, M., & Donevan, M. (2021). Reconnecting Pornography, Prostitution, and Trafficking: "The experience of being in porn was like being destroyed, run over, again and again". Atlánticas. Revista Internacional de Estudios Feministas, 6(1), 30-66. https://doi.org/10.17979/arief.2021.6.1.7312
Resumen
[Abstract] Pornography has been perceived as existing separate from prostitution and trafficking. We suggest that pornography, prostitution, and trafficking overlap conceptually and empirically. We discuss similarities between pornography and other arms of the sex trade such as escort, street, or massage prostitution via a review of survivor testimony and existing research. Women used in the production of pornography suffer the same adverse antecedents as those in other prostitution including poverty, childhood sexual abuse, racism, domestic violence, and the cultural mainstreaming of sexism. These factors groom and channel women into pornography, with pornographers using the same controlling tactics employed by other pimps. In pornography, women are subject to physical and psychological harms that are the same as those harms in other prostitution. We offer recommendations for holding those who perpetrate sex trade harms - pimps, traffickers, and sex buyers - legally accountable. We conclude that pornography should be legally and conceptually understood as one variant of prostitution and trafficking.
[Resumen] Se ha percibido la pornografía como un fenómeno separado de la prostitución y la trata. Sugerimos que la pornografía, la prostitución y la trata se superponen conceptual y empíricamente. A través de entrevistas con supervivientes e investigaciones existentes, discutimos las semejanzas entre la pornografía y otras vertientes de la industria del sexo tales como escorts, prostitución de calle o locales de masajes. Las mujeres utilizadas en la producción de pornografía presentan los mismos antecedentes adversos de quienes se encuentran en la prostitución, incluyendo la pobreza, los abusos sexuales en la infancia, el racismo, la violencia de género y el sexismo de la cultura dominante. Estos factores preparan y conducen a las mujeres hacia la pornografía, donde los pornógrafos emplean las mismas tácticas de control utilizadas por otros proxenetas/padrotes[1]. En la pornografía, las mujeres están sujetas a los mismos daños físicos y psicológicos que en la prostitución. Proporcionamos una serie de recomendaciones para hacer legalmente responsables de sus actos a quienes perpetran los daños de la industria del sexo: proxenetas, tratantes y compradores de sexo. Concluimos que la pornografía debería ser legal y conceptualmente comprendida como una variante más de la prostitución y la trata.
Palabras clave
Pimps
Webcam
Prostitution
Trafficking
Sex purchase act
Pornography victim
Víctimas de la pornografía
Prostitución
Proxenetas
Trata
Compra de sexo
Padrotes
Descripción
This article is part of the monograph entitled 'Pornography: A Sexual Geography of Power'.
Versión del editor
Derechos
Atribución-NoComercial-CompartirIgual 4.0 Internacional (CC BY-NC-SA 4.0)
ISSN
2530-2736