La escuela que no fue. El proyecto del campus de Coruña de Castañón, Laguna y Ucha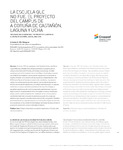 View/Open

Except where otherwise noted, this item's license is described as Atribución-NoComercial-CompartirIgual 3.0 España
Title
La escuela que no fue. El proyecto del campus de Coruña de Castañón, Laguna y Ucha
Alternative Title(s)
The school which never was. The project of a campus in A Coruña by Castañón, Laguna, and Ucha
Author(s)
Date
2021-10-28
Citation
Río Vázquez, Antonio S. 2021. La escuela que no fue. El proyecto del campus de Coruña de Castañón, Laguna y Ucha. En Blanco. Revista de Arquitectura 13 (31):143-54. https://doi.org/10.4995/eb.2021.15621.
Abstract
[Resumen] En el año 1972, los arquitectos Juan Castañón Fariña, José María Laguna Martínez y Rodolfo Ucha Donate presentaron su proyecto para el campus universitario de A Coruña, culminando un proceso que se había iniciado por parte de la Fundación Barrié de la Maza en la década precedente, con el objetivo de establecer una escuela de arquitectura en el noroeste de España, contando con la asistencia de los arquitectos estadounidenses John W. McLeod y Raymond Caravaty actuando como consultores. La propuesta incluye tres centros para la docencia superior: una escuela de arquitectura técnica, una escuela de arquitectura y un colegio universitario que, en conjunto, conforman un campus destinado a enseñanzas técnicas. Sin embargo, la escuela de arquitectura, tal como fue proyectada originariamente, nunca se llegó a construir. El planteamiento inicial de emplear un mismo modelo para ambos centros resultó completamente modificado por los mismos autores, concibiendo finalmente la escuela de arquitectura a partir de un volumen autónomo que responde a un orden interno estructural y compositivo. El análisis pormenorizado de ese segundo proyecto en su concepción original nos muestra otra escuela que no fue, siendo transformada por decisiones tomadas durante el proceso de construcción y en su medio siglo de historia.
[Abstract] In the year 1972, the architects Juan Castañón Fariña, José María Laguna Martínez, and Rodolfo Ucha Donate presented their project of the University Campus of A Coruña. They concluded a process initiated by the Barrié de la Maza Foundation in the previous decade to establish a School of Architecture in the North West of Spain. With the assistance and consultancy of American architects John W. McLeod and Raymond Caravaty, the proposal included three buildings for higher education: One school destined for Technical Architecture studies, one for the school of Architecture, and another for University College. Together these created a University Campus and another Technical studies. Nevertheless, the School of Architecture was never built in the way that it was initially conceived. Instead, the authors fully modified the initial approach consisting of just one model to both buildings, which finally envisaged the School of Architecture generated from an individual volume that responds to a compositional and structural internal order. The detailed analysis of this second project in this original version shows another school that never was, transformed by decisions taken during the construction process and within its half-century of history.
Keywords
Campus universitario
Escuela de arquitectura
A Coruña
Años setenta
Brutalismo
University campus
School of architecture
The seventies
Brutalism
Editor version
Rights
Atribución-NoComercial-CompartirIgual 3.0 España
ISSN
1888-5616