Effect of generalized ligamentous hyperlaxity related of quality of life in the foot: a case controlled study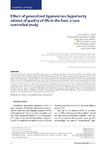 Title
Effect of generalized ligamentous hyperlaxity related of quality of life in the foot: a case controlled study
Author(s)
Date
2018-09
Citation
Palomo-López, Patricia et al. Effect of generalized ligamentous hyperlaxity related of quality of life in the foot: a case controlled study. Revista da Associação Médica Brasileira [online]. 2018, v. 64, n. 9 [Accessed 9 March 2022] , pp. 819-823. Available from: <https://doi.org/10.1590/1806-9282.64.09.819>. ISSN 1806-9282. https://doi.org/10.1590/1806-9282.64.09.819.
Abstract
[Abstract] Generalized ligamentous hyperlaxity (GLH) has been shown to predispose an individual to a number of orthopaedic conditions. Little is known about how GLH affects people' foot health-related quality of life. This study analyses a sample of people with GLH and people without GLH with normalised reference values of the scores collected with regard to using the Foot Health Status Questionnaire (FSHQ). A total of 100 respondents with mean age of 22.69 ± 3.78 years old, who attended a health centre were classified as GLH (n = 50) or non-GLH (n = 50). The GLH was determined of the patients with and without GLH using assessment with Beighton tool and the scores on the FHSQ were compared. The control group recorded higher scores in the First Section for foot pain, foot function and general foot health, and lower scores in footwear. In the Second Section, they obtained higher scores in social capacity and lower scores in physical activity, vigour and general health. Differences between the two groups were evaluated through a t-test for independent samples, showing statistical significance (P<0.001). This study has detected measurable differences of association between GLH (Beighton score ≥4) with impaired quality of life related to foot health.
[Resumo] A hiperlaxia ligamentosa generalizada (HLG) demonstrou predispor um indivíduo a várias condições ortopédicas. Pouco se sabe sobre como a HLG afeta a qualidade de vida relacionada à saúde do pé das pessoas. Este estudo analisa uma amostra de pessoas com HLG e pessoas sem HLG com valores de referência normalizados das pontuações coletadas no que diz respeito ao Foot Health Status Questionnaire (FSHQ). Um total de 100 informantes com média de idade de 22,69 ± 3,78 anos que eram atendidos em um centro de saúde foi classificado como HLG (n = 50) ou não HLG (n = 50). A HLG foi determinada com os pacientes com e sem HLG usando a ferramenta Beighton e os escores na FHSQ foram comparados. O grupo de controle registrou pontuações mais altas na primeira seção para a dor no pé, função do pé e saúde geral do pé, e menores pontuações no calçado. Na segunda seção obtiveram maiores escores em capacidade social e menores escores em atividade física, vigor e saúde geral. As diferenças entre os dois grupos foram avaliadas por meio de um teste t para amostras independentes, mostrando significância estatística (P<0,001). Este estudo detectou diferenças mensuráveis de associação entre HLG (pontuação de Beighton≥4) com deterioração da qualidade de vida relacionada à saúde dos pés.
Keywords
Foot diseases
Enfermedades del pie
Musculoskeletal system
Sistema musculoesquelético
Calidad de vida
Quality of life
Editor version
Rights
Atribución-NoComercial 3.0 España
ISSN
1806-9282.