Bootstrap Selector for the Smoothing Parameter of Beran's Estimator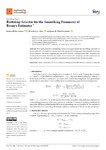 Collections
Title
Bootstrap Selector for the Smoothing Parameter of Beran's Estimator
Author(s)
Date
2021
Citation
Suárez, R.P.; Abad, R.C.; Fernández, J.M.V. Bootstrap Selector for the Smoothing Parameter of Beran's Estimator. Eng. Proc. 2021, 7, 28. https://doi.org/10.3390/engproc2021007028
Abstract
[Abstract] This work proposes a resampling technique to approximate the smoothing parameter of Beran's estimator. It is based on resampling by the smoothed bootstrap and minimising the bootstrap approximation of the mean integrated squared error to find the bootstrap bandwidth. The behaviour of this method has been tested by simulation on several models. Bootstrap confidence intervals are also addressed in this research and their performance is analysed in the simulation study.
Keywords
Beran's estimator
Survival analysis
Bootstrap
Bandwidth selector
Confidence intervals
Description
Presented at the 4th XoveTIC Conference, A Coruña, Spain, 7–8 October 2021.
Editor version
Rights
Atribución 4.0 Internacional