Novos análogos de violóxeno con resposta a estímulos ácido-base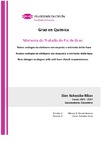 View/Open
Title
Novos análogos de violóxeno con resposta a estímulos ácido-base
Alternative Title(s)
Nuevos análogos de viológeno con respuesta a estímulos ácido-base
New viologen analogues with acid-base stimuli-responsiveness

Author(s)
Directors
García, Marcos D.
Peinador, Carlos

Date
2021
Center/Dept./Entity
Universidade da Coruña. Facultade de Ciencias
Description
Traballo fin de grao (UDC.CIE). Química. Curso 2021/2022
Abstract
[Resumo]: Os violóxenos e os seus derivados son un tipo de compostos que se levan a estudar dende os anos 70, debido as súas interesantes propiedades químicas. Entre outras, os equilibrios redox reversibles destes compostos favorecen o seu uso nunha ampla variedade de aplicacións, a súa síntese é relativamente sinxela permitindo a fácil introdución de substituíntes e son altamente solubles en auga e disolventes orgánicos dependendo do contraión. Por outra banda, a súa tendencia a formar complexos supramoleculares cos cucurbit[n]urilos permite empregalos en sistemas químicos dinámicos, como poden ser os interruptores supramoleculares. O presente traballo centrouse na busca de novos derivados de violóxeno. Así, téñense sintetizado e caracterizado diversos análogos, estudouse a súa interacción co receptor molecular cucurbit[7]urilo mediante o uso de Resonancia Magnética Nuclear e espectroscopía UV-Vis.
[Resumen]: Los viológenos y sus derivados son un tipo de compuestos que se llevan estudiando desde los años 70, debido a sus interesantes propiedades químicas. Entre otras, los equilibrios redox reversibles de estos compuestos favorecen su uso en una amplia variedad de aplicaciones, su síntesis es relativamente sencilla permitiendo la fácil introducción de sustituyentes y son altamente solubles en agua y disolventes orgánicos dependiendo del contraión. Por otra parte, su tendencia a formar complejos supramoleculares con los cucurbit[n]urilos permite usarlos en sistemas químicos dinámicos, como pueden ser los interruptores supramoleculares. El presente trabajo se centró en la búsqueda de nuevos derivados de viológeno. Así, se sintetizaron y caracterizaron diversos análogos y se estudió su interacción con el receptor molecular cucurbit[7] urilo mediante el uso de Resonancia Magnética Nuclear y espectroscopía UV-Vis.
[Abstract]: Viologens and its derivatives are a type of compounds that has been extensively studied since the 1970s, because of their interesting chemical properties. Among others, the redox reversible equilibrium of these compounds favours their use in a wide variety of practical applications, their synthesis is relatively simple, allowing for the easy introduction of substituents, and they are highly soluble in water and organic solvents depending on their counterion. Furthermore, their tendency to form supramolecular complexes with cucurbit[n]uril allows for their implementation into dynamic chemical systems, such as supramolecular switches. The present work focuses on the development of new viologen derivatives. Various analogues have been synthesized and characterized, and their interaction with cucurbit[7]uril has been studied through the use of Nuclear Magnetic Resonance and UV-Vis spectroscopy.
Keywords
Química supramolecular
Química receptor-substrato
Derivados de violóxenos
Cucurbit[n]urilo
Química receptor-sustrato
Derivados de viológenos
Supramolecular chemistry
Host-guest chemistry
Viologen derivatives
Cucurbit[n]uril
Rights
Os titulares dos dereitos de propiedade intelectual autorizan a visualización do contido deste traballo a través de Internet, así como a súa reproducción, gravación en soporte informático ou impresión para o seu uso privado e/ou con fins de estudo e de investigación. En nengún caso se permite o uso lucrativo deste documento. Estos dereitos afectan tanto ó resumo do traballo como o seu contido Los titulares de los derechos de propiedad intelectual autorizan la visualización del contenido de este trabajo a través de Internet, así como su repoducción, grabación en soporte informático o impresión para su uso privado o con fines de investigación. En ningún caso se permite el uso lucrativo de este documento. Estos derechos afectan tanto al resumen del trabajo como a su contenido