Trap, algo más que música: estudio sociológico del trap español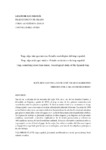 View/Open

Except where otherwise noted, this item's license is described as Atribución-NoComercial-SinDerivadas 3.0 España
Title
Trap, algo más que música: estudio sociológico del trap español
Alternative Title(s)
Trap, algo máis que música: estudo sociolóxico do trap español
Trap, Something More Than Music: Sociological Study of the Spanish Trap

Author(s)
Directors
Diz, Carlos
Date
2019
Center/Dept./Entity
Universidade da Coruña. Facultade de Socioloxía
Description
Traballo fin de grao (UDC.SOC). Socioloxía. Curso
Citation
Rey Gayoso, R., Vilares Marrondo, D.J. (2019). Trap, algo más que música: estudio sociológico del trap español. [Traballo de fin de Grao. Universidade da Coruña]
Abstract
[Resumen] Nacido en la década de los noventa del siglo XX, en el sur de los Estados Unidos, y difundido en España a partir de 2012, el trap es uno de los géneros musicales más escuchados entre los jóvenes españoles. Si bien su matriz rítmica se encuentra en el rap, el trap español nace como una expresión cultural radicalmente diferente. La crisis de 2008 será el factor estructural que más condicione la naturaleza de este hecho musical, mientras que géneros musicales como el reggaeton o la electrónica marcarán su particular estética. En el presente trabajo se pretende analizar el ethos trapero y su impacto en la juventud coruñesa, asumiendo conceptos explicativos de la teoría posmoderna y referencias bibliográficas acerca del neoliberalismo cultural. Estudiar elementos consustanciales al trap español como el beef, el papel de la mujer, los valores sociales del discurso trapero o el papel desempeñado por las nuevas tecnologías, será uno de los objetivos principales de este trabajo.
[Resumo] Nacido na década dos noventa do século XX, no sur dos Estados Unidos, e difundido en España a partir de 2012, o trap é un dos xéneros musicais máis escoitados entre os mozos españois. Aínda que a súa matriz rítmica atópase no rap, o trap español nace como unha expresión cultural radicalmente diferente. A crise de 2008 será o factor estrutural que máis condicione a natureza deste feito musical, mentres que xéneros musicais como o reggaeton ou a electrónica marcarán a súa particular estética. No presente traballo preténdese analizar o ethos trapero e o seu impacto na mocidade coruñesa, asumindo conceptos explicativos da teoría posmoderna e referencias bibliográficas sobre o neoliberalismo cultural. Estudar elementos consustanciais ao trap español coma beef, o papel da muller, os valores sociais do discurso trapero ou o papel desempeñado polas novas tecnoloxías, será un dos obxectivos principais deste traballo.
[Abstract] Been born in the decade of the ninety of the 20th century, in the south of the United States, and spread in Spain from 2012, the trap is one of the musical genders more listened between the Spanish youngsters. Although his rhythmical matrix finds in the rap, the trap Spanish is born like a cultural expression radically different. The crisis of 2008 will be the structural factor that more condition the nature of this musical fact, whereas musical genders like the reggaeton or the electronics will mark his aesthetic individual. The present work pretends to analyse the ethos trapero and his impact in the youth of A Coruña, assuming explanatory concepts of the postmodern theory and bibliographic references about the cultural neoliberalism. Studying consubstancial elements to the Spanish trap like the beef, the woman´s rol, the social values of the trap speech or the rol exerted by the new technologies, will be one of the main aims of this work.
Keywords
Trap español
Juventud
Neoliberalismo
Teoría posmoderna
Beef
Valores sociales
Mocidade
Valores sociais
Spanish trap
Youth
Neoliberalism
Postmodern Theory
Social values
Rights
Atribución-NoComercial-SinDerivadas 3.0 España