Impactos dos Caminhos na comunidade local de Santiago de Compostela: Re-sultados de um projeto de investigação em curso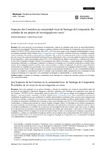 View/Open

Except where otherwise noted, this item's license is described as Atribución 4.0 Internacional (CC BY 4.0)
Title
Impactos dos Caminhos na comunidade local de Santiago de Compostela: Re-sultados de um projeto de investigação em curso
Alternative Title(s)
Impactos de los Caminos en la comunidad local de Santiago de Compostela: Resultados de un proyecto de investigación en curso
Impacts of the Ways in the Local Community of Santiago de Compos-tela: Results of a Research Project in Progress

Author(s)
Date
2020
Citation
Samartim, R., & Pazos-Justo, C. (2020). Impactos de los Caminos en la comunidad local de Santiago de Compostela: Resultados de un proyecto de investigación en curso. Madrygal. Revista De Estudios Gallegos, 23(Especial), 307-320. https://doi.org/10.5209/madr.73614
Abstract
[Resumo]: Este texto pretende ser um primeiro levantamento e síntese de resultados (não isento de autorreflexividade), do projeto de investigação "Discursos, imagens e práticas culturais sobre Santiago de Compostela como meta dos Ca-minhos" (FFI2012-35521), desenvolvido entre 2011 e 2017 por uma equipa de investigação multidisciplinar e interu-niversitária vinculada à Rede Galabra (https://redegalabra.org/). O presente contributo seleciona a totalidade das publi-cações resultantes das análises representativas realizadas sobre secções do corpus geral do projeto referido, composto por sua vez por um corpus documental formado por livros, audiovisuais e sites, e por outro grupo de materiais constituí-do por inquéritos e entrevistas passados entre 2013 e 2015 a habitantes da cidade, comerciantes e visitantes (proceden-tes da Galiza, Espanha, Portugal e Brasil). O levantamento dos objetivos focados, o corpus analisado, a metodologia e ferramentas utilizadas e as principais conclusões ou hipóteses levantadas nos 21 produtos publicados no âmbito desse projeto de investigação permite concluir, entre outras questões, a validez da aplicação de métodos e procedimentos referenciados no trabalho por questionário ou no recurso ao Processamento da Linguagem Natural (PLN); o impacto da obra do escritor Paulo Coelho nas práticas de visitantes (nomeadamente brasileiros); ou, até, a centralidade da Igreja católica e da religião no entendimento tanto do Caminho como da própria cidade, juntamente com a construção de uma imagem de Santiago de Compostela e da comunidade local ligada à espiritualidade e o medievalismo.
[Resumen]: Este texto pretende ser un primer abordaje y síntesis de resultados (no exento de autorreflexividad) del proyecto de investigación "Discursos, imágenes y prácticas culturales sobre Santiago de Compostela como meta de los Caminos" (FFI2012-35521), desarrollado entre los años 2011 y 2017 por un equipo de investigación multidisci-plinario e interuniversitario vinculado a la Rede Galabra (https://redegalabra.org/). Esta contribución selecciona la totalidad de las publicaciones que resultan de los análisis representativos realizados sobre secciones del corpus general del proyecto referido, compuesto a su vez por un corpus documental formado por libros, audiovisuales y webs, y por otro grupo de materiales constituido por encuestas y entrevistas realizadas entre 2013 y 2015 a habitantes de la ciudad, comerciantes y visitantes (procedentes de Galicia, España, Portugal y Brasil). El abordaje de los objetivos propuestos, el corpus analizado, la metodología y herramientas utilizadas y las principales conclusiones o hipótesis retiradas de los 21 productos publicados en el ámbito de ese proyecto de investigación permite concluir, entre otras cosas, la validez de la aplicación de los métodos y procedimientos propios del trabajo por cuestionario o del recurso al Procesado del Lenguaje Natural (PLN); el impacto de la obra del escritor Paulo Coelho en las prácticas de visitantes (especialmente brasileños); o, incluso, la centralidad de la Iglesia católica y de la religión en la comprensión tanto del Camino como de la propia ciudad, al lado de la construcción de una imagen de Santiago de Compostela y de la comunidad local ligada a la espiritualidad y al medievalismo.
[Abstract]: We introduce an initial assessment (and criti-cal reflection) of all the results linked to the research pro-ject "Speeches, images and cultural practices on Santiago de Compostela as a goal of the Paths" (FFI2012-35521), developed between 2011 and 2017 by a multidisciplinary and interuniversitary research team linked to the Galabra Network (https://redegalabra.org/).The research takes as a point of departure a set of publications resulting from representative analyzes carried out on sections of the general corpus of the project. This corpus is composed by a documentary archive of books, audiovisuals and websites, plus surveys and interviews to inhabitants, shopkeepers and visitors (from Galicia, Portugal, Spain and Brazil) between 2013 and 2015. The survey carried out on our first production on the project allows to con-clude, among other issues, the validity of the methods and procedures of work by questionnaire or Natural Lan-guage Processing (NLP); the impact of Paulo Coelho on the practices of visitors (namely Brazilians); or even the centrality of the Catholic Church and religion in the comprehension of the Way and the city, along with the construction of an image of the city / community linked to spirituality and medievalism.
Keywords
Caminhos de Santiago
Comunidade local
Santiago de Compostela
Território
Projetos de investigação
Autoreflexividade
Caminos de Santiago
Territorio
Proyectos de investigación
Autorreflexividad
Ways of Santiago
Local community
Territory
Research projects
Critical reflection
Editor version
Rights
Atribución 4.0 Internacional (CC BY 4.0)
ISSN
1138-9664
Related items
Showing items related by title, author, creator and subject.
Barrero-Santiago, Laura

;

Santiago-Pescador, Salvador

;

Santos-Lozano, Alejandro

;

Justo Cousiño, Lorenzo Antonio

(

Universidade da Coruña

,

2020-09

)

[Resumen] La rotura del ligamento cruzado anterior (LCA) es una de las lesiones más comunes, que constituyen casi el 50% del total de las lesiones ligamentosas de rodilla. A lo largo de los años se han creado diversas guías ...

Fernández-Corugedo, Santiago G.

(

Universidade da Coruña

,

1997

)

Huerta Fernández, Santiago

;

Hernando de la Cuerda, Rafael

(

Universidade da Coruña

,

1998

)