Impacto da asma relacionado coa calidade de vida, dor e mobilidade relacionada coa saúde dos pés en pacientes adultos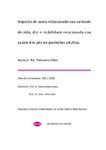 Title
Impacto da asma relacionado coa calidade de vida, dor e mobilidade relacionada coa saúde dos pés en pacientes adultos
Author(s)
Directors
Calvo-Lobo, César
López-López, Daniel

Date
2020
Abstract
[Resumo] Introducción: a asma é unha enfermidade pulmonar non transmisible e altamente prevalente asociada a unha menor capacidade de resposta bronquial que pode prexudicar a calidade de vida baseándose en cambios da función pulmonar, trastornos músculo-esqueléticos e alteración posturais. Métodos: realizaronse tres estudos de casos (pacientes diagnosticados de asma) e controis. Avaliouse o umbral de dor á presión no tunel tarsal é no maleolo peroneal (I), o rango de dorsiflexión do nocello e da 1ª articulación metarsofalánxica, a taxa de caídas (II) e o estado de sáude dos pés utilizando o Foot Health Status Questionnaire e o Beck depression inventory nas suas versións españolas(III). Resultados: Os pacientes asmáticos amosaron diferenzas significativas nos seguintes parámetros: diminución do limiar de dor á presión do tunel tarsaiano bilateral (I), menor rango de movemento de flexión dorsal do nocello e da 1ª articulación metatarsofalánxica, maior taxa de caídas (II) e un nivel de calidade deteriorado relacionado coa saúde dos pés na dimensión de calzado (III). Conclusións: Os pacientes diagnosticados de asma amosaron un incremento bilateral da mecanosensibilidade no túnel tarso, una diminución da dorsiflexión das articulación do nocello e do pé, unha maior taxa de caidas e un impacto negativo na calidade de vida.
[Resumen] Introducción: el asma es una enfermedad pulmonar no transmisible y altamente prevalente asociada a una menor capacidad de respuesta bronquial que puede afectar la calidad de vida en función de los cambios en la función pulmonar, los trastornos musculoesqueléticos y las alteraciones posturales. Métodos: se realizaron tres estudios de casos (pacientes diagnosticados con asma) y controles. Se evaluó el umbral de dolor a la presión en el túnel tarsal y en el maléolo peroneo (I), el rango de dorsiflexión del tobillo y la 1ª articulación metatarsofalángica, la tasa de caídas (II) y la salud del pie utilizando el Foot Health Status Questionnaire y el Beck depression inventory en español (III). Resultados: los pacientes con asma mostraron diferencias significativas en los siguientes parámetros: disminución del umbral de dolor a la presión del túnel tarsal bilateral (I), menor rango de movimiento de flexión dorsal del tobillo y 1ª articulación metatarsofalángica, mayor tasa de caídas (II) y un deterioro de la calidad de vida relacionado con la salud del pie y el calzado (III). Conclusiones: Los pacientes diagnosticados de asma mostraron un aumento bilateral en la mecanosensibilidad del túnel tarsal, disminución de la dorsiflexión de las articulaciones del tobillo y el pie, una mayor tasa de caídas y un impacto negativo en la calidad de vida.
[Abstract] Introduction: asthma is a non-communicable and highly prevalent lung disease associated with a lower capacity for bronchial response that can affect the quality of life based on changes in lung function, musculoskeletal disorders and postural disorders. Methods: three case studies (patients diagnosed with asthma) and controls were performed. The pressure pain threshold was assessed in the tarsal tunnel and the peroneal malleolus (I), the range of ankle dorsiflexion and 1st metaphalangeal joint, the fall rate (II) and health. of the foot using the Foot Health Status Questionnaire and Beck's depression inventory in Spanish (III). Results: patients with asthma showed significant differences in the following parameters: decrease in the pressure pain threshold of the bilateral tarsal tunnel (I), lower range of dorsal flexion movement of the ankle and 1st metaphalangeal joint, higher rate of falls (II) and deterioration of the quality of life related to the health of the foot and footwear (III). Conclusions: Patients diagnosed with asthma showed a bilateral increase in the mechanosensitive of the tarsal tunnel, decreased dorsiflexion of the ankle and foot joints, a higher rate of fall and a negative impact on the quality of life.
Keywords
Asma-Diagnóstico
Asma-Fisiopatología
Pie-Propiedades mecánicas
Trastornos de la postura
Description
Programa Oficial de Doutoramento en Saúde e Motricidade Humana. 5002V01
Rights
Os titulares dos dereitos de propiedade intelectual autorizan a visualización do contido desta tese a través de Internet, así como a súa reproducción, gravación en soporte informático ou impresión para o seu uso privado e/ou con fins de estudo e de investigación. En nengún caso se permite o uso lucrativo deste documento. Estos dereitos afectan tanto ó resumo da tese como o seu contido Los titulares de los derechos de propiedad intelectual autorizan la visualización del contenido de esta tesis a través de Internet, así como su repoducción, grabación en soporte informático o impresión para su uso privado o con fines de investigación. En ningún caso se permite el uso lucrativo de este documento. Estos derechos afectan tanto al resumen de la tesis como a su contenido