Estudio y caracterización de andamios 2D y 3D funcionalizados con RGD-Cys-D1 para su aplicación en ingeniería de tejidos en el tratamiento de lesiones de cartílago articular humano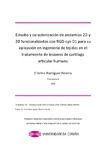 Except where otherwise noted, this item's license is described as Atribución-NoComercial-SinDerivadas 4.0 España
Title
Estudio y caracterización de andamios 2D y 3D funcionalizados con RGD-Cys-D1 para su aplicación en ingeniería de tejidos en el tratamiento de lesiones de cartílago articular humano
Author(s)
Directors
Gálvez Martín, Patricia
Blanco García, Francisco J.
Blanco García, Francisco J. (Titor)

Date
2020
Abstract
[Resumen] El cartílago es un tejido que presenta una limitada capacidad de regeneración, lo que provoca que pequeñas lesiones puedan desencadenar enfermedades como la artrosis. La ingeniería de tejidos usa células, biomateriales y estímulos para intentar generar tejidos in vitro que se puedan implantar en el paciente para sustituir o ayudar al tejido dañado del cuerpo humano. En el ámbito de la regeneración de cartílago, múltiples andamios constituidos de diferentes biomateriales se han desarrollado en un intento de generar un cartílago in vitro que presente la estructura y la función características del cartílago articular hialino. Sin embargo, aún se está lejos de conseguir este objetivo, obteniéndose en la mayoría de los casos cartílago fibroso. Por otro lado, la fibronectina, y más concretamente su secuencia RGD, se ha visto implicada en la diferenciación condrogénica. Es de particular interés su función, durante los primeros pasos de la condrogénesis embrionaria, ya que actúa guiando la distribución y deposición de la matriz cartilaginosa. El objetivo de este estudio es determinar el potencial condrogénico de láminas de ácido poli-Lláctico y andamios tridimensionales de policaprolactona funcionalizados con diferentes concentraciones de dendrímeros RGD-Cys-D1. Para ello, se han cultivado células estromales mesenquimales en ambos tipos de andamios con medio condrogénico y se hizo un estudio de expresión génica e histológico de las muestras. Como resultado, se observó que las células estromales mesenquimales responden a las diferentes concentraciones de dendrímeros y que estos estimulan la condrogénesis cuando las células son sembradas en las láminas de ácido poli-L-láctico. Sin embargo, no es así en los andamios de policaprolactona. El uso de diferentes concentraciones de RGD-Cys-D1 para la regeneración de cartílago es prometedor, aun así, más estudios son necesarios para determinar su potencial.
[Resumo] A cartilaxe é un tecido que presenta unha limitada capacidade de rexeneración, o que provoca que pequenas lesións poidan desencadear enfermidades como a artrose. A enxeñaría de tecidos emprega biomateriais, células e estímulos para intentar xenerar tecidos que poidan ser implantados para substituír o axudar ao tecido danado do corpo humano. No ámbito da rexeneración de cartilaxe, múltiples andamios constituídos de diferentes biomateriais desarrolláronse nun intento de xenerar unha cartilaxe in vitro que presente unha estrutura e unha función características da cartilaxe articular humana hialina. Sen embargo, aínda estamos lonxe de conseguir este obxectivo, obténdose na maioría dos casos cartilaxe fibrosa. Por outro lado, a fibronectina, e máis concretamente a secuencia RGD, veuse implicada na diferenciación condroxénica. É de particular interese a súa función, durante os primeiros pasos da condroxénesis embrionaria, guiando a distribución e deposición da matriz cartilaxinosa. O obxectivo de este estudo é determinar a potencial condroxénica de láminas de ácido poli-Lláctico e andamios tridimensionais de policaprolactona funcionalizados con diferentes concentracións de dendrímeros RGD-Cys-D1. Para elo, cultiváronse células estromais mesenquimais en ambos tipos de andamios con medio condroxénico e fíxose un estudo da expresión xénica e histolóxico das mostras. Como resultado, observouse que as células estromais mesenquimais responden ás diferentes concentracións de dendrímeros e que estes estimulan a condroxénesis cando as células son sembradas nas láminas de ácido poli-L-láctico. Sen embargo, non é así nos andamios de policaprolactona. O uso de diferentes concentracións de RGD-Cys-D1 para a rexeneración da cartilaxe é prometedor, aínda así, máis estudos son necesarios para determinar o seu potencial.
[Abstract] Cartilage is a tissue with a limited regenerative capacity. It causes that small lesions can develop in illness as arthrosis. Tissue engineering uses biomaterials, cells and stimulus with the intention of generating tissues, which could be implanted in the human body as a substitute or for helping the malfunctioning tissue. In the area of cartilage regeneration multiple scaffolds have been manufactured with different biomaterials, trying to generate an in vitro cartilage with the structure and function of the native articular cartilage. Even though, we are far away from getting to our objective, and most of the constructs generated are fibrocartilage. On the other hand, fibronectin, and specially its RGD sequence, has been described as participant during the chondrogenic differentiation. Of great interest is the function of the fibronectin as guide in the distribution and deposition of the cartilage matrix during embryonic chondrogenesis. The objective of this work is determining the chondrogenic potential of the poly-L-lactic acid membranes and polycaprolactone three-dimensional scaffolds functionalized with different RGD-Cys-D1 dendrimer concentrations. For obtaining this objective, mesenchymal stromal cells have been cultivated in both scaffolds with chondrogenic medium. The results have been obtaining by studying the gene expression and histologict test of the obtained samples after the culture. It has been observed that the mesenchymal stromal cells have different responses to the concentrations of dendrimers. The RGD-Cys-D1 stimulated the chondrogenesis in the mesenchymal stromal cells when cultured in the poly-L-lactic acid membranes, but not in the polycaprolactone scaffolds. The use of different concentrations of RGD-Cys-D1 for cartilage regeneration is promising, but more studies are necessary for determining their potential.
Keywords
Células madre mesenquimatosas
Medicina regenerativa
Cartílago articular-Lesiones y heridas
Condrogénesis
Description
Programa Oficial de Doutoramento en Bioloxía Celular e Molecular . 5004V01
Rights
Atribución-NoComercial-SinDerivadas 4.0 España