Prácticas físicodeportivas extraescolares no organizadas: género, etapa e índice de actividad física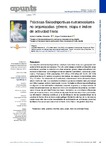 View/Open

Except where otherwise noted, this item's license is described as Atribución-NoComercial-SinDerivadas 4.0 España
Collections
Title
Prácticas físicodeportivas extraescolares no organizadas: género, etapa e índice de actividad física
Alternative Title(s)
Non-organised Extracurricular Physical and Sport Practice: gender, educational stage and physical activity index
Pràctiques fisicoesportives extraescolars no organitzades: gènere, etapa i índex d'activitat física

Date
2020-07-01
Citation
Alvariñas-Villaverde, M., & González-Valeiro, M. (2020). Non-organised Extracurricular Physical and Sport Practice: gender, educational stage and physical activity index. Apunts. Educación Física y Deportes, 141, 55-62. https://doi.org/10.5672/apunts.2014-0983.es.(2020/3).141.07
Abstract
[Resumen]: Los estudios sobre la tipología de las prácticas físico-deportivas no organizadas fuera del ámbito escolar son escasos. Por ello, este trabajo consistió en describir estas actividades y analizar su relación con otras variables: género, etapa educativa e índice de actividad física. La investigación fue de carácter cuantitativo, transversal y descriptivo. Participaron 1040 estudiantes, 521 niños y 519 niñas (M: 12,30; DE: 3,08) pertenecientes a 26 centros educativos de Galicia, de edades comprendidas entre 10 y 17 años. Se administró el Cuestionario internacional sobre educación física, salud y estilo de vida. Los resultados mostraron que las actividades más practicadas son fútbol, pasear, ciclismo, baloncesto y correr. Se hallaron diferencias significativas en algunas de las actividades estudiadas respecto al género y la etapa escolar. El índice de actividad física fue mayor en niños y en estudiantes de primaria. Se observaron niveles de actividad física muy bajos. Asimismo, se encontraron diferencias entre personas activas y poco activas en algunas disciplinas deportivas practicadas. La información obtenida contribuye a la identificación de las características de la práctica de tiempo libre en la sociedad gallega. Mediante este tipo de evidencias se puede responder mejor a las necesidades de participación en la infancia y juventud, facilitando futuras actuaciones en el contexto comunitario y de gestión deportiva.
[Abstract]: There are very few studies on the types of non-organised physical and sport practice outside the school setting. Therefore, this paper consisted of describing these activities and analysing their relationship with other variables: gender, educational stage and physical activity index. The research design was quantitative, cross-sectional and descriptive. It involved 1,040 students, 521 boys and 519 girls (M = 12.30; SD = 3.08) enrolled in 26 Galician schools and aged between 10 and 17. The International Questionnaire on Physical Education, Health and Lifestyle was administered. The results showed that the most popular activities were soccer, walking, cycling, basketball and running. Significant differences were found in some of the activities studied in terms of gender and school stage. The physical activity index was higher in boys and in primary students. Very low levels of physical activity were observed. Differences were also found between active and less active people in some of the sports. The information obtained helps to identify the features of how free time is spent in Galician society. This type of evidence makes it possible to address participation needs in childhood and adolescence better by enabling future actions in the community and sports management settings.
[Resum]: Els estudis sobre la tipologia de les pràctiques fisicoesportives no organitzades fora de l'àmbit escolar són escassos. Per això, aquest treball va consistir a descriure aquestes activitats i analitzar la seva relació amb altres variables: gènere, etapa educativa i índex d'activitat física. La recerca va ser de caràcter quantitatiu, transversal i descriptiu. Van participar-hi 1040 estudiants, 521 nens i 519 nenes (M: 12,30; DE: 3,08) pertanyents a 26 centres educatius de Galícia, d'edats compreses entre 10 i 17 anys. Es va administrar el Qüestionari internacional sobre educació física, salut i estil de vida. Els resultats van mostrar que les activitats més practicades són futbol, passejar, ciclisme, bàsquet i córrer. Es van trobar diferències significatives en algunes de les activitats estudiades respecte al gènere i l'etapa escolar. L'índex d'activitat física va ser més gran en nens i en estudiants de primària. Es van observar nivells d'activitat física molt baixos. Així mateix, es van trobar diferències entre persones actives i poc actives en algunes disciplines esportives practicades. La informació obtinguda contribueix a la identificació de les característiques de la pràctica de temps lliure en la societat gallega. Mitjançant aquest tipus d'evidències es pot respondre millor a les necessitats de participació en la infantesa i joventut, facilitant futures actuacions en el context comunitari i de gestió esportiva.
Keywords
Práctica informal
Sexo
Edad
Nivel de actividad física
Informal practice
Sex
Age
Physical activity level
Sexe
Edat
Nivell d'activitat física
Editor version
Rights
Atribución-NoComercial-SinDerivadas 4.0 España
ISSN
2014-0983