The Mental Construction of Reality in James Joyce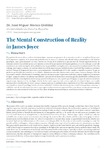 Collections
Title
The Mental Construction of Reality in James Joyce
Author(s)
Date
2020
Citation
Alonso-Giráldez, J. M. (2020). The Mental Construction of Reality in James Joyce. Oceánide, 13, 69-77.
Abstract
[Abstract] The purpose of this study is to analyse how James Joyce builds a large part of his narrative through a verbal tissue that is born from the cognitive experience, from the deep interaction between mind and environment. Beyond the psychoanalytic approach or Psychological realism, Joyce, particularly in Ulysses, displays this reading of reality in which a series of cognitive events form a narrative continuum. Reality appears before us through the perceptions of the protagonists, and that is the reason why we only access an incomplete view of reality itself. Partiality or incompleteness is a fundamental characteristic of Ulysses. However, Joyce aspires to build up a coherent and solid universe. Joyce creates a continuous reality through the semantic flow, often chaotic and blurry. Joycean language reveals the inconsistencies and instabilities of one's life, when it is impossible to transmit what cannot be apprehended completely, whether due to mental dysfunctions, hallucinations or other causes, as in Finnegans Wake. In this study, we also consider etymology as a tool that provides stability and linguistic richness to Joyce's narrative, although subjecting it to hard transformations or mutation processes. Joyce finds great stylistic possibilities in the words used as semantic repositories that come from the past, and, with his passion for language, is able to build cognitive moments that rely on etymology. In the light of the most recent cognitive theories applied to Joyce's work, this study shows how the combination of mind, body and environment builds reality in Joyce, especially in Ulysses, overcoming traditional analyses around the inner monologue or the individual mind. Confirming previous studies, we consider that Joyce builds reality through microhistories, sketches, discursive or introspective cognitive events. However, to form a continuous substrate, that contributes to the construction of identity in Ulysses, Joyce deploys strategic frameworks, such as paternity or adultery.
[Resumen] El propósito de este estudio es analizar cómo James Joyce construye una gran parte de su narrativa a través de un tejido verbal que nace de la experiencia cognitiva, de la interacción profunda entre la mente y el entorno. Más allá del enfoque psicoanalítico o del realismo psicológico, Joyce, particularmente en Ulises, muestra esta lectura de la realidad en la que una serie de eventos cognitivos forman un continuo narrativo. La realidad aparece ante nosotros a través de las percepciones de los protagonistas, y esa es la razón por la cual solo accedemos a una visión incompleta de la realidad misma. La parcialidad o incompletitud es una característica fundamental de Ulises. Sin embargo, Joyce aspira a construir un universo coherente y sólido. Joyce crea una realidad continua a través del flujo semántico, a menudo caótico y borroso. El lenguaje de Joyce revela las inconsistencias e inestabilidades de la vida, cuando es imposible transmitir lo que no puede ser aprehendido por completo, ya sea debido a disfunciones mentales, alucinaciones u otras causas, como en Finnegans Wake. En este estudio, también consideramos la etimología como una herramienta que proporciona estabilidad y riqueza lingüística a la narrativa de Joyce, aunque la somete a transformaciones difíciles o procesos de mutación. Joyce encuentra grandes posibilidades estilísticas en las palabras utilizadas como depósitos semánticos que provienen del pasado y, con su pasión por el lenguaje, es capaz de construir momentos cognitivos que dependen de la etimología. A la luz de las teorías cognitivas más recientes aplicadas al trabajo de Joyce, este estudio muestra cómo la combinación de mente, cuerpo y entorno construye la realidad en Joyce, especialmente en Ulises, superando los análisis tradicionales en torno al monólogo interior o la mente individual. Confirmando estudios previos, consideramos que Joyce construye la realidad a través de microhistorias, bocetos, eventos cognitivos discursivos o introspectivos. Pero, para formar un sustrato continuo, que contribuya a la construcción de la identidad en Ulises, Joyce despliega marcos estratégicos, como la paternidad o el adulterio.
Keywords
Joyce, James
Ulysses
Finnegans wake
Cognition
Discourse analysis
Cognición
Análisis del discurso
Editor version
ISSN
1989-6328