Expresión y caracterización de enzimas aisladas de fuentes termales usando metagenómica funcional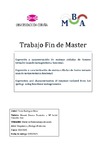 Collections
Title
Expresión y caracterización de enzimas aisladas de fuentes termales usando metagenómica funcional
Alternative Title(s)
Expresión e caracterización de enzimas illadas de fontes termais usando metaxenómica funcional
Expression and characterization of enzymes isolated from hot springs using functional metagenomics

Author(s)
Directors
Becerra, Manuel
González Siso, María Isabel

Date
2020
Center/Dept./Entity
Universidade da Coruña. Facultade de Ciencias
Description
Traballo fin de mestrado (UDC.CIE). Biotecnoloxía avanzada. Curso 2019/2020
Abstract
[Resumen]: Las enzimas son proteínas capaces de transformar un sustrato específico en productos, acelerando la reacción química. Por ello despiertan gran interés para la industria, y en la actualidad se utilizan en multitud de procesos. Los microorganismos constituyen la mejor fuente para su obtención, y en la búsqueda de nuevas enzimas microbianas podemos hacer uso de técnicas de metagenómica que nos permitan identificar las secuencias que las codifiquen. En el presente Trabajo de Fin de Máster se pretende expresar una celulasa (CelB4) y la caracterización de una lipasa (LipD11) obtenidas de metagenotecas de las aguas termales de Rio Caldo, Lobios, provincia de Ourense. Por un lado, para la enzima CelB4 por el momento no se ha conseguido ningún clon de levadura que sea capaz de expresar la enzima. Por su parte, LipD11 ha demostrado ser una lipasa termoestable, con preferencia por ácidos grasos de 8 carbonos, y que se puede considerar apta para su uso en la formulación de detergentes teniendo en cuenta como su actividad se ve favorecida por la presencia de algunos agentes surfactantes y detergentes comerciales.
[Resumo]: As enzimas son proteínas capaces de transformar un substrato específico en produtos, acelerando a reacción química. Por iso despertan grande interese para a industria, e na actualidade utilízanse en multitude de procesos. Os microorganismos constitúen a mellor fonte para a súa obtención, e na procura de novas enzimas microbianas podemos facer uso das técnicas de metaxenómica que permítannos identifica-las secuencias que as codifiquen. No presente Traballo de Fin de Máster preténdese expresar unha celulasa (CelB4) e a caracterización dunha lipasa (LipD11) obtidas de metaxenotecas das augas termais de Río Caldo, Lobios, provincia de Ourense. Por un lado, para a enzima CelB4 polo momento non se conseguiu ningún clon de lévedo que sexa capaz de expresa-la enzima. Pola súa parte, LipD11 demostrou ser unha lipasa termostabel, con preferencia polos ácidos graxos de 8 carbonos, e que pódese considerar axeitada para o seu uso na formulación de deterxentes tendo en conta como a súa actividade vese favorecida pola presenza dalgúns axentes surfactantes e deterxentes comerciais.
[Abstract]: Enzymes are proteins which are capable of transforming a specific substrate into products, accelerating the chemical reaction. That is the reason why they awake such interest for industry, and nowadays enzymes are used in multiple industrial processes. Microorganisms constitute the best source for enzyme acquisition, and in the search for new microbial enzymes we can make use of metagenomic techniques which allow us to identify the sequences that codify them. In the present Master's Dissertation, our goals are the expression of a celulase (CelB4) and the characterization of a lipase (LipD11) which were both obtained from Rio Caldo, Lobios, province of Ourense using metagenomics. On the one hand, we could not manage yet to obtain a yeast clone capable of expressing the CelB4 enzyme. On the other hand, LipD11 has proven to be thermostable, showing preference for 8 carbon fatty acids, and it can be considered suitable for the formulation of detergents, taking into account how the presence of some surfactant agents and commercial detergents promote its activity.
Keywords
Enzimas-Aplicaciones industriales
Metagenómica
Celulasa
Lipasa
Microorganismos termófilos
Fuentes termales-Galicia