Scaffolding a Club Philosophy Among Coaches: Perspectives from a Spanish Club Short Title: a Club Philosophy Among Coaches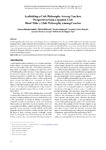 Except where otherwise noted, this item's license is described as Atribución-CompartirIgual 4.0 España
Collections
Title
Scaffolding a Club Philosophy Among Coaches: Perspectives from a Spanish Club Short Title: a Club Philosophy Among Coaches
Alternative Title(s)
Construyendo una filosofia de trabajo entre entrenadores deportivos: perspectivas desde un club español
Construindo uma filosofia de trabalho entre treinadores esportivos: perspectivas a partir de um clube espanhol

Author(s)
Date
2019
Abstract
[Abstract] Coaching philosophy is an important assumption for a coaching practice. The aim of this study was to describe one sport program and to understand how the transmission of the principles and values in a successful sport club, which was recognized as the best one in youth sport in state level. As results, we identified that coaches were the key element in sharing a sport program's main points within the club community, specially athletes; from this, we describe the best practices identified: Basquetes and basics program; coach portfolio; internal coaches' development and support for participation in courses; mentoring program.
[Resumen] La filosofia de entrenamiento es un fundamento importante para ejercer como entrenador, compartiendo la identidad y cultura de su institucion deportiva. El objetivo de este estudio es la descripcion de un programa deportivo y comprender la transmision de los principios y valores en un club reconocido en el desarrollo de jovenes. Los resultados indican que el entrenador es el elemento clave en este proceso; ademas de identificar y describir las mejores practicas para establecer y compartir la filosofia del club con sus entrenadores: programas "Basquet" y "Basicos"; portfolio del entrenador; clínicas internas para la formacion de entrenadores y apoyo para la participacion en cursos; programa de mentoria.
[Resumo] A filosofia de treinamento e um fundamento importante para se exercer como treinador, compartilhando a identidade e cultura de sua instituicao esportiva. O objetivo deste estudo e descrever um programa esportivo e compreender a transmissao de principios e valores em um clube reconhecido no desenvolvimento de jovens atletas.Os resultados indicam que o treinador e o elemento chave nesse processo, sendo identificadas as melhores praticas estabelecidas para compartilhar a filosofia do clube com seus treinadores: programas "Basquet" e "Basicos"; portfolio do treinador; clinicas internas para a formacao de treinadores e apoio para a participacao em cursos; programa de mentoria.
Keywords
Sport coach
Basketball
Professional development
Sport pedagogy
Entrenador deportivo
Baloncesto
Desarrollo profesional
Pedagogía del deporte
Treinador esportivo
Basquetebol
Desenvolvimento profissional
Pedagogia do esporte
Rights
Atribución-CompartirIgual 4.0 España
ISSN