Entre lo formal y lo no formal: un análisis desde la formación permanente del profesorado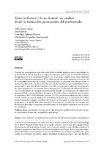 Title
Entre lo formal y lo no formal: un análisis desde la formación permanente del profesorado
Alternative Title(s)
Between the Formal and the Non-formal: An Analysis From the Perspective of Continuing Teacher Training
Entre el formal i el no formal: una anàlisi des de la formació permanent del professorat

Author(s)
Date
2020
Citation
Souto-Seijo, A., Estévez, I., Iglesias Fustes, V., & González-Sanmamed, M. (2020). Entre lo formal y lo no formal: un análisis desde la formación permanente del profesorado. Educar, 56(1), 0091-107. doi: 10.5565/rev/educar.1095
Abstract
[Resumen] Una de las características más relevantes de la sociedad actual es que el aprendizaje no se desarrolla de forma lineal ni en espacios concretos, por lo que no se puede limitar a los parámetros de la modalidad formal. Así, el presente estudio tiene como finalidad analizar la formación permanente de los docentes de educación primaria en el marco de la comunidad autónoma de Galicia. Concretamente se pretende determinar dónde se forma el profesorado, cuándo realiza las actividades formativas, qué modalidades formativas emplea y por qué decide formarse. Para ello se ha llevado a cabo una investigación de corte cuantitativo. La muestra está compuesta por 73 docentes de educación primaria. El instrumento de recogida de información ha sido un cuestionario de elaboración propia validado a través del juicio de expertos. Los datos fueron analizados con el paquete estadístico IBM SPSS Statistics (versión 25). Los resultados evidencian que el profesorado realiza un mayor número de actividades formales que no formales. En ambos casos el momento elegido está fuera del horario lectivo, pero se sitúa durante el curso académico, y la modalidad seleccionada es la presencial. Finalmente, las razones que llevan al profesorado a implicarse en ambos tipos de actividades formativas son de carácter intrínseco.
[Resum] Una de les característiques més rellevants de la societat actual és el fet que l'aprenentatge no es desenvolupa de forma lineal ni en espais concrets. Això fa que no es pugui limitar als paràmetres de la modalitat formal. Així, el present estudi té com a finalitat analitzar la formació permanent dels docents d'educació primària en el marc de la Comunitat Autònoma de Galícia. Concretament es pretén determinar on es forma el professorat, quan realitza les activitats formatives, quines modalitats formatives empra i per què decideix formar-se. S'ha dut a terme aquesta recerca de tall quantitatiu. La mostra està composta per 73 docents d'educació primària. L'instrument de recollida d'informació ha estat un qüestionari d'elaboració pròpia validat mitjançant el judici d'experts. Les dades foren analitzades amb el paquet estadístic IBM SPSS Statistics (versió 25). Els resultats evidencien que el professorat realitza un nombre més elevat d'activitats formals que no pas de no formals. En tots dos casos el moment escollit és fora de l'horari lectiu però està situat durant el curs acadèmic, i la modalitat seleccionada és la presencial. Finalment, les raons que duen el professorat a implicar-se en tots dos tipus d'activitats formatives són de caràcter intrínsec.
[Abstract] One of the most relevant characteristics of today's society is that learning does not take place in a linear way or in specific spaces, so it cannot be limited to the parameters of the formal modality. Thus, the aim of this study is to analyse the continuous training of primary education teachers in Galicia, Spain. Specifically, it intends to determine where teachers are trained, when they carry out training activities, what training modalities they use the most and why they decide to do training. For this purpose, a quantitative research study has been carried out with a sample of 73 primary education. The instrument for collecting information has been a self-created questionnaire, validated through expert judgment. The data were analysed using the IBM SPSS Statistics software package (version 25). The results show that teachers engage in a greater number of formal activities than non-formal ones. In both cases, they choose to train outside of school hours but during the academic year, and they select the face-to-face modality. Finally, the reasons that lead teachers to become involved in both types of training activities are related with intrinsic motivation.
Keywords
Aprendizaje a lo largo de la vida
Desarrollo profesional
Formación docente
Actividades formativas
Ecologías de aprendizaje
Aprenentatge al llarg de la vida
Desenvolupament professional
Formació docent
Activitats de formació
Ecologies d'aprenentatge
Lifelong learning
Professional development
Teacher training
Training activities
Learning ecologies
Editor version
Rights
Atribución 4.0 Internacional