En defensa da (des)igualdade: o pensamento misóxino da Ilustración e os seus ecos na actualidade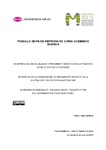 Title
En defensa da (des)igualdade: o pensamento misóxino da Ilustración e os seus ecos na actualidade
Alternative Title(s)
En defensa de la (des)igualdad: el pensamiento misógino de la Ilustración y sus ecos en la actualidad
In defense of (in)equality: the misogynistic thought of the enlightenment and its echoes today

Author(s)
Directors
Teasley, Cathryn
Date
2019
Center/Dept./Entity
Universidade da Coruña. Facultade de Socioloxía
Description
Traballo fin de mestrado (UDC.SOC). Políticas sociais e intervención sociocomunitaria. Curso 2018/2019
Abstract
[Resumo] No presente traballo realízase unha análise crítica do rexurdir en certas esferas intelectuais dun discurso esencialista e naturalizador do xénero. Na primeira metade, e tomando como punto de partida a Ilustración, afóndase nas características e motivacións que se atopan detrás da visión esencialista da muller e do seu rol na sociedade, en cales son os principios nos que se sustenta, así como nas súas propostas de cara á organización social. Obtense deste xeito unha imaxe definida da evolución desta perspectiva, incluíndo os seus momentos de maior ou menor relevancia a nivel social e intelectual, ata chegar ao momento actual. A segunda parte e final correspóndese co estudo e coa crítica das ideas manexadas polos representantes máis destacados desta tendencia esencialista na actualidade, da súa relación co feminismo, coa reacción patriarcal e co capitalismo neoliberal. Expóñense as características que fan diferente este discurso fronte aos seus antecesores ilustrados, así como as posibles causas da súa reaparición no contexto actual e o impacto que pode chegar a ter a nivel político e socioeconómico. Todo iso se fai prestando especial atención aos supostos coñecementos científicos e realidades nas que se apoian as afirmacións realizadas polos expertos que defenden a existencia de diferenzas de comportamento e motivacións de carácter natural entre mulleres e homes.
[Resumen] En el presente trabajo se realiza un análisis crítico del resurgir en ciertas esferas intelectuales de un discurso esencialista y naturalizador del género. En la primera mitad, y tomando como punto de partida la Ilustración, se profundiza en las características y motivaciones que se encuentran detrás de la visión esencialista de la mujer y su rol en la sociedad, cuáles son los principios en los que se sustenta, así como sus propuestas de cara a la organización social. Se obtiene de esta forma una imagen definida de la evolución de esta perspectiva, incluyendo sus momentos de mayor o menor relevancia a nivel social, hasta llegar al momento actual. La segunda parte y final, se corresponde con el estudio y crítica de las ideas manejadas por los representantes más destacados de esta tendencia esencialista en la actualidad, su relación con el feminismo, la actual reacción patriarcal y el capitalismo neoliberal. Se exponen las características que hacen diferente a este discurso frente a sus antecesores ilustrados, las posibles causas de su reaparición en el contexto actual y el impacto que puede llegar a tener a nivel político y socioeconómico. Todo esto se hace prestando especial atención a los supuestos conocimientos científicos y realidades en las que se apoyan las afirmaciones realizadas por los expertos que defienden la existencia de diferencias de comportamiento y motivación de carácter natural entre mujeres y hombres.
[Abstract] In the present work we carry out a critical analysis of the resurgence in certain intellectual spheres of an essentialist and naturalizing discourse of gender. In the first half, and taking the Enlightenment as a starting point, we delve into the characteristics and motivations that lie behind the essentialist vision of women and their role in society, which are the principles on which it is based, as well as its proposals for social organization. We obtain in this way a definite image of the evolution of this perspective, including its moments of greater or lesser relevance at the social level, until arriving at the current moment. The second and final part corresponds to the study and critique of the ideas handled by the most outstanding representatives of this essentialist tendency at the moment, their relationship with feminism, and the current patriarchal reaction under neoliberal capitalism. The characteristics that make this discourse different from its enlightened predecessors, the possible causes of its reappearance in the current context and the impact it may have on a political and socioeconomic level are exposed. We do all this by paying special attention to the supposed scientific knowledge and realities on which the statements made by experts who defend the existence of behavioural and motivational differences of a natural nature between women and men are supported.
Keywords
Xénero
Esencialismo
Patriarcado
Reacción
Feminismo
Historia
Género
Gender
Essentialism
Patriarchy
Reaction
Feminism
History
Rights
Atribución 3.0 España